Coventry University Wrocław hosted WrocMUN – a Model United Nations organised by local students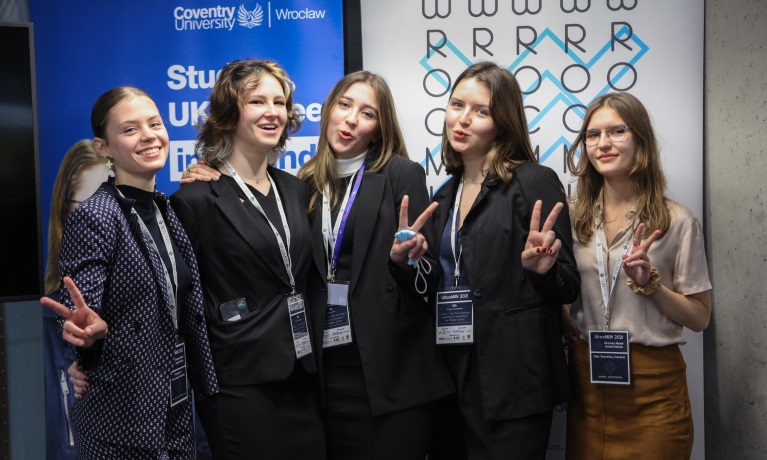 ---
Wednesday 01 December 2021
Press contact
---
Coventry University Wrocław teamed up with Wrocław High School No. 5 to celebrate democracy during WrocMUN – Wrocław's Model United Nations assembly.
The event took place from 26th to 28th November at Coventry University Wrocław's campus, during which brilliant young minds embodied United Nations delegates for a few days and engaged in debates.
MyMUN, or a Model United Nations, is an educational and academic simulation of diplomatic decision making held across the world where students can experience an international relations conference. Wrocław hosted its own in November. Each participant must first present their case, debate and work towards one final group presentation with other ambitious and bright young minds. The event teaches Delegates skills such as researching, public speaking, debating, writing skills, teamwork and cultural empathy.
High School No. 5 has been organising the conference since 1997. 
Hanna Godlewska, Deputy Secretary General for the WrocMUN event, said of the conference:
I participated in three MUN events in Poland but always as a delegate. It was truly an amazing opportunity to become a delegate from United Arab Emirates or United Kingdom and immerse myself in the topic from the perspective of those countries. Along with our classmates, we've decided to host our own event in Wrocław and take our experience to the next level. Collaboration with an organisation that has more than 100,000 registered users and 900,000 yearly visitors is a perfect way to develop our business management and leadership skills that will help us both in college applications and future careers. When searching for the co-operator to host this international event, Coventry University Wrocław seemed like a natural choice due to its internationality and openness to involve young high school students on the other side of the negotiating table in this exciting experience.
A total of 80 delegates gathered at Coventry University Wrocław to discuss the topic 'Europe – the old continent redefining its place in the Modern World'. 
Dr Jacek Lewandowski, Campus Director at Coventry University Wrocław, said of the event:
Coventry University Wrocław is a vital part of Wrocław's academic and business scene. We're engaging in a number of events aimed at city and regional development. We're proud to be able to aid students from High School No. 5 in organising such a great event which correlates so well with our practical approach to teaching. These young, ambitious students are already thinking about their future careers and further path to higher education, since MUN participation has always been a great addition to university applications.
Find out more about WrocMUN or see what Coventry University Wrocław has to offer.