Financial Management and Accounting BA (Hons)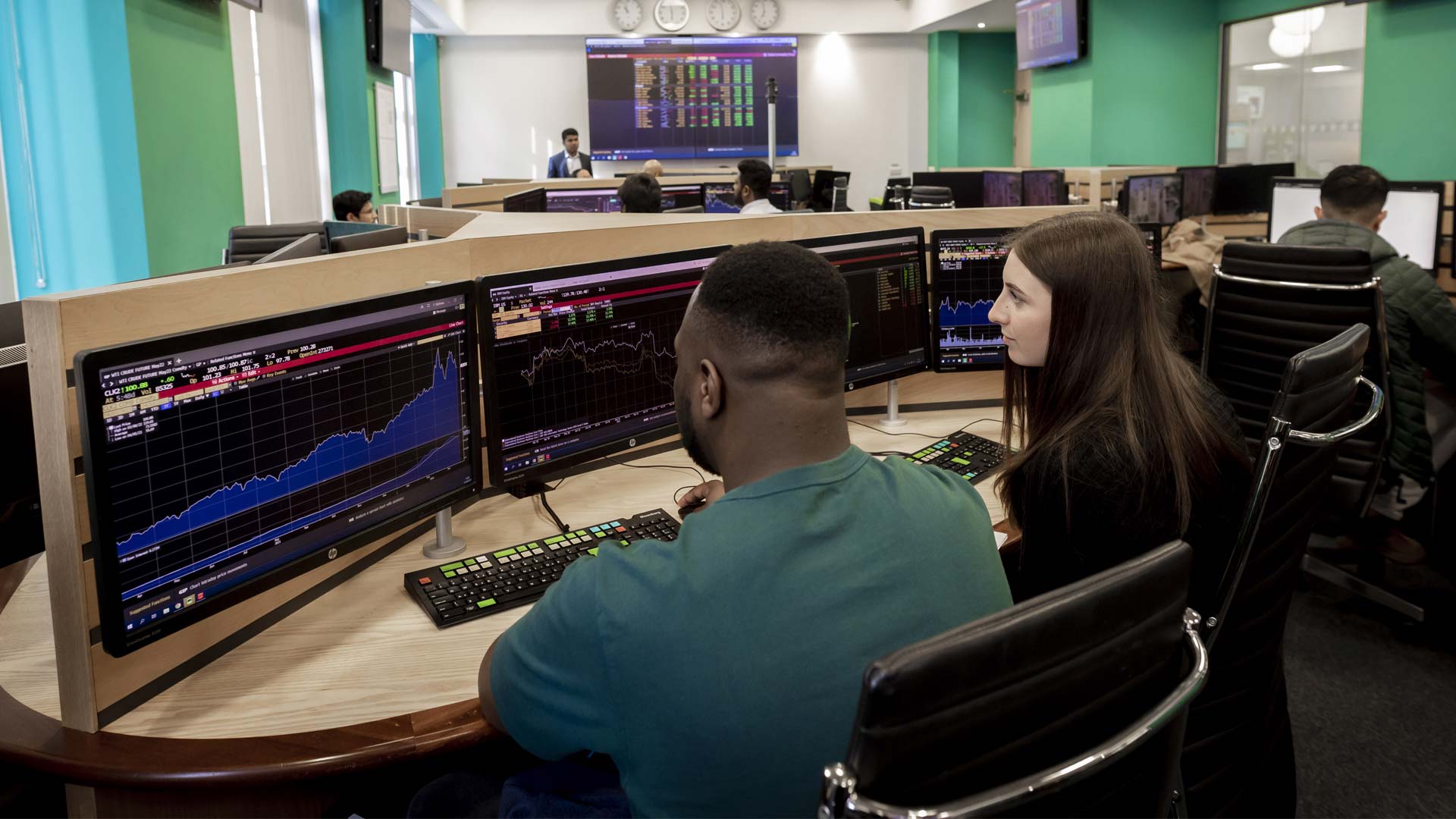 The BA (Hons) Financial Management and Accounting degree is designed to equip you with the necessary skills and competences to work in finance, the lifeblood profession to all industries.
Location
Coventry University Wrocław (Poland)
Study mode
Full-time
Sandwich
Duration
3 years full-time
4 years sandwich
Start date
September 2023
November 2023
January 2024
March 2024
April 2024
June 2024
---
Course overview
The course aims to enable students to make a valid contribution to managerial and accounting functions of any organisation such as sole traders, firms of partnerships, private and public companies and charitable organisations.
Students achieving this qualification could benefit in the workplace by acquiring the skills and knowledge required to enable them to climb the ladder of opportunity for promotion to senior positions in an organisation, for example becoming an Assistant Management Accountant supporting a Financial Accountant in the preparation of budgets and financial statements.
This course also seeks to develop and embed students with a commercial awareness, a key to success in the finance and accountancy sectors, enabling graduates to show that they can understand the work of a finance organisation as well as that of the companies for which the organisation works.
Why Coventry University Wrocław?
At Coventry University Wrocław, we aim to offer a career-focused experience to our students, one that is traditionally academic but is also designed to help you progress in your future career. Our offering is flexible and designed to fit around your life, allowing you to benefit from a modern, forward-thinking higher education institution, reinforced by the quality and reputation of Coventry University. We are dedicated to making higher education accessible and enjoyable for as many people as possible, so we only to cover one subject at a time, allowing you to study each topic before moving onto the next.
---
What you'll study
The first year of the course is concerned with the application of skills for identifying and recording financial transactions in accounts and ledgers following the principles of double entry bookkeeping, drafting and interpreting the financial statements of sole traders, partnerships and limited companies. Students will also acquire knowledge of information to be presented to users of the financial statements and how to apply the rules and principles established by international accounting standards (IAS and IFRS) to these financial statements.
At the end of year one, students should be able to evaluate the appropriateness of different approaches to solving problems and communicate the results of their study or work accurately and reliably.
Modules
Economics for Accounting and Finance

You will learn how to apply the fundamental principles to economic problems and propose alternatives for resource allocation in order to meet the objectives of organisation. You will be able to understand the principle of supply and demand in the economy, assess the implication of production and associated costs and revenue under short and long-run production capabilities.

Financial Marketing and Regulation

The specific aims of this module are to enable you to examine the institutional features of financial systems, as well as identify key issues and problems arising in Finance, both in a UK and international context. You will study the history and context of Financial Services in the UK, in addition to the regulatory changes that have come about as a result of recent events in the sector.

Law for Business Entities

You will examine the basis of a valid contract. This will include the expectation and consequences of the relationship between agent and principal.

You will study the law of tort and its specific relevance to professional advice within the business environment.

You will learn the relevant legislation affecting sole traders, partnerships and companies including the law of insolvency that is relevant when a business runs into financial difficulties.

Financial Statements and Budgeting

This module is concerned primarily with competence in drafting and interpreting the financial statements of limited companies and budgeting which is an essential tool in planning, coordinating, authorising and cost control. You will attain competence in drafting financial statements of business entities and acquire an understanding of the fundamental management accounting concepts and techniques.
Year two of this course is concerned with providing the knowledge and skills of corporate finance, which forms the basis of investment analysis and decisions and enables students to undertake a variety of risk assessments relating to financial matters. The students should understand the models of financial risk management and their application within a range of professional settings.
At the end of year two, students should be able to critically analyse, propose solutions from analysis and communicate information to specialists and non-specialists.
Modules
Managing Corporate Finance

You will be able to examine the key elements and range of investment theories; apply a range of techniques for determining the working capital management; analyse the Capital Asset Pricing Model in relation to the Arbitrage Pricing Model; and evaluate the behavioural finance and how it affects investor behaviour.

Financial Reporting (International Standards)

On completion of the accounting module, you will also be proficient in the use of double entry accounting techniques and the maintenance of accounting records. You will be able to specify the components of financial statements and prepare and present non-complex accounts for a range of different business structures including sole traders, partnerships and limited companies.

Corporate Governance and Risk

The module will widen your knowledge on corporate governance and explore the role of financial regulation and legal mechanisms in averting financial crises. The module will focus on UK/European corporate governance, financial regulation, and practices, including international developments in the Financial Industry.

Introduction to Islamic Finance and Investment

This module provide an understanding of equity-based and fee-based contracts. You will also learn how to describe Intermediation contracts in Islamic Finance, and be introduced to the framework for the Islamic Financial System and investment, the Islamic Banking System and its Financial Products.
There's no better way to find out what you love doing than trying it out for yourself, which is why a work placement can often be beneficial. Work placements1 usually occur between your second and final year of study. They're a great way to help you explore your potential career path and gain valuable work experience, whilst developing transferable skills for the future.
The final year of this course is concerned with students being able to evaluate the concept of compliance and assurance, why compliance is required and the reasons for assurance engagements being carried out by appropriately qualified professionals.
At the end of the final year students should be able to critically discuss tax and ethical issues relating to it, evaluate the organisation's strategic operations and evaluate incomplete data to make judgements.
Modules
Compliance and Assurance

This module will prepare you with the necessary knowledge and skills, so that you are able to contribute to the assessment of internal controls and gathering of evidence on an assurance engagement. You will also develop a critical understanding of the importance of ethical behaviour for a professional accountant and be able to assess issues relating to integrity, objectivity, conflicts of interest, conflicts of loyalty, confidentiality and independence.

Taxation for Business Entities

This module assumes some basic knowledge of taxation and will enable you to develop knowledge in this area to include the processes for calculating income tax, national insurance contributions, capital gains tax, inheritance tax, taxation of trust, stamp taxes, corporation tax and Value Added Tax (VAT) in a variety of scenarios.

Strategic Performance Management

You will be introduced to the application of models use for strategic planning, controlling, and monitoring of organisational performance, assess the impact of risk and uncertainty on business entity performance, incorporate technology to performance management information systems, and advice business entities on how to recognise susceptibility to corporate failure.

Research Proposal in Accounting and Finance

This module will provide you with the opportunity to explore a topic in Accounting or Finance that is current and relevant to the Financial and Accounting sector. You will be able to demonstrate the ability to use research and enquiry skills and to know how to conduct the research project from designing it through to writing up the research proposal.
We regularly review our course content, to make it relevant and current for the benefit of our students. For these reasons, course modules may be updated.
---
This course is available as a full-time three year or optional four-year sandwich course, the latter incorporating a work placement or study year in a related field1.
Our teaching methods are varied, offering a number of teaching styles to help suit the needs of our students, so in addition to lectures, we also utilise a blended learning approach, including online aspects, workshops and group work. Additional support is available via email and our online learning platform, which is currently Aula.
Progression through the modules develops knowledge and skills, including communication (written and oral), study skills, research methods, project management, presentation and career development. We will also encourage you to consider your employability and/or entrepreneurial development.
development.
---
Teaching contact hours
Unlike traditional institutions, there are no end of year exams. Instead, learning is assessed through coursework and phase tests, which is more reflective of our learning model.
The contact hours may be made up of a combination of face-to-face teaching, individual and group tutorials, and online classes and tutorials. As an innovative and enterprising institution, the university may seek to utilise emerging technologies within the student experience. For all courses (whether on-campus, blended, or distance learning), the university may deliver certain contact hours and assessments via online technologies and methods.
The number of full-time contact hours may vary from semester to semester, however, on average, it is likely to be around 20 contact hours per week.
Additionally, you will be expected to undertake significant self-directed study of approximately 30 hours each week, depending on the demands of individual modules.
In response to the COVID-19 pandemic, we are prepared for courses due to start in or after the 2022/2023 academic year to be delivered in a variety of forms. The form of delivery will be determined in accordance with Government and Public Health guidance. Whether on campus or online, our key priority is staff and student safety.
---
Assessment
The learning outcomes of modules, assignments and projects will be clearly stated. Your work will be marked according to how well you achieve these learning outcomes and your final feedback will refer to each outcome, as well as providing an overall percentage grade.
Assessment methods vary and include, practical class and project performance, written practical reports, project thesis, tutorial tasks and assessments, which take place at the end of each six-week block.
Course breakdown:
Coursework
Phase Tests
Presentations
Research/reports
The Coventry University Group assessment strategy ensures that our courses are fairly assessed and allows us to monitor student progression towards achieving the intended learning outcomes.
---
Polish requirements
The candidate should be able to demonstrate one of the following diplomas:
| Requirement | What we're looking for |
| --- | --- |
| Polish Matura Exam Basic Level | 40% |
| Polish Matura Extended Level | One subject at Grade 4 or 55% if higher. If one Extended Level subject is English at 75% or higher you do not require additional English Language qualifications |
| International Baccalaureate (IB Diploma) | 28 points |
| A level | BBB |
EU requirements
Requirement
What we're looking for
EU exams
We're here to help you understand which qualifications, diplomas and certificates you can use from your own country to meet our entry requirements.

Contact us to find out more or find your home country on our

EU entry requirements page.
International Baccalaureate (IB Diploma)
28 points
International requirements
For international students and regional specific information, find your home country on our regional entry requirements page.
English language requirements
A telephone interview to assess English language skills will be arranged for non-native English speakers.
If you hold IELTS Level 6.0 (with no component less than 5.5) or equivalent, you will not have to complete the telephone interview.
---
Fees and funding
2023/24 tuition fees2.
| Student | Full-time | Part-time |
| --- | --- | --- |
| EU | 27,500 zł (EU) per year | Not available |
| EU | Not available | Not available |
| International | 46,000 zł (non-EU) per year | Not available |
Coventry University Wroclaw will review tuition fees each year. Coventry University Wroclaw may increase fees for each subsequent year of study but such increases will be no more than 5% above inflation. Please note that the calculation of inflation is based on the information on price indices of consumer goods and services published by the President of the Statistics Poland on the website: www.stat.gov.pl for the quarter preceding the fees' valorisation. Students who are not satisfied with the changes will be offered the opportunity to withdraw.
For advice and guidance on tuition fees and student loans visit our Undergraduate Finance page and see the University's Tuition Fee and Refund Terms and Conditions.
Tuition fees cover the cost of your teaching, assessments, facilities and support services. There may be additional costs not covered by this fee such as accommodation and living costs, recommended reading books, stationery, printing and re-assessments should you need them.
---
Facilities
Coventry University Wrocław will offer you a wide range of facilities to support your studies and help you succeed.
This campus offers the opportunity to study in fully equipped classrooms for interactive and collaborative teaching, IT suites purpose-built to support the needs of our students and also break out spaces3.
---
Careers and opportunities
On successful completion of this course, you should be able to:
Evaluate the legal, ethical and social context, in which accounting can be seen as operating in the accountancy profession; business entity; the capital markets; and the public sector.
Apply the main current technical language and practices of accounting in regard to recognition, measurement and disclosure of financial statements; managerial accounting; auditing and taxation on a national and international basis.
Critically evaluate the main current technical language and practices of accounting in regard to alternative recognition rules and valuation bases, accounting rules applicable nationally and internationally, different managerial accounting methods used in management control and decision making.
Apply the relevant skills in recording and summarising transactions and other economic events; preparation of financial statements using international standards; performance measurement of managers and business entities; management control; analysis of financial ratios or performance indicators, discounted cash flow analysis, budgeting and forecasting, and financial options and associated risks. These skills must be in the contexts in which accounting data and information is processed and provided within a variety of organisational environments.
Critically evaluate contemporary theories and empirical evidence, concerning the operation and effects of accounting, in the contexts of accounting and accountability; accounting and corporate governance; accounting and capital markets; accounting and sustainability; and auditing.
An appreciation of the nature of the contexts in which finance can be seen as operating, including knowledge of the institutional framework necessary for understanding the role, operation and function of markets and financial institutions (for example, the economic, ethical, legal, political, regulatory, social and tax environment, both national and international; the firm; the capital markets; and the public sector).
An understanding of the financing arrangements and governance mechanisms and structures of business entities, and an appreciation of how theory and evidence can be combined to assess the effectiveness and efficiency of such arrangements (for example, decisions as to sources of finance and financial structure; the pricing of corporate securities; the market for corporate control; corporate governance; financial planning; and international dimensions of finance).
Key graduate job titles may range from Chartered and Certified Accountants, Finance and Investment Analyst, Taxation Experts and Financial Managers and Advisors. According to High Fliers research, The Graduate Market in 2020, the most generous salaries are from investment banks, consulting firms, law firms and oil & energy companies.
---
How to apply
EU students

EU full-time students should apply directly to the university. Read our application pages to find out your next steps to apply.

---

For further support or more information about your course get in touch with us today.
Disclaimers

Coventry University Wroclaw is a branch campus of Coventry University. Coventry University together with Coventry University London Campus, CU Coventry, CU London, CU Scarborough and Coventry University Online come together to form part of the Coventry University Group (the "University") with all degrees awarded by Coventry University.

1 UK and International opportunities

Please note that we are unable to guarantee any UK, Polish or International opportunities (whether required or optional) such as internships, work experience, field trips, conferences, placements or study abroad opportunities and that all such opportunities may be subject to additional costs (which could include, but is not limited to, equipment, materials, bench fees, studio or facilities hire, travel, accommodation and visas), competitive application, availability and/or meeting any applicable travel COVID and visa requirements. To ensure that you fully understand the visa requirements, please contact the International Office.

2 Tuition fees

The University will charge the tuition fees that are stated on the course webpage and in the prospectus for the first year of study. Coventry University Wroclaw will review tuition fees each year. Coventry University Wroclaw may increase fees for each subsequent year of study but such increases will be no more than 5% above inflation. Please note that the calculation of inflation is based on the information on price indices of consumer goods and services published by the President of the Statistics Poland on the website: www.stat.gov.pl for the quarter preceding the fees' valorisation. Students who are not satisfied with the changes will be offered the opportunity to withdraw.

3 Facilities

Facilities are subject to availability. Due to COVID-19, some facilities (including some teaching and learning spaces) may vary from those advertised and may have reduced availability or restrictions on their use.

Student Contract

By accepting your offer of a place and enrolling with us, a Student Contract will be formed between you and the university. The 2023/24 Contract is currently being updated so please revisit this page before submitting your application. The Contract details your rights and the obligations you will be bound by during your time as a student and contains the obligations that the university will owe to you. You should read the Contract before you accept an offer of a place and before you enrol at the university.
---