Computing Science BSc (Hons)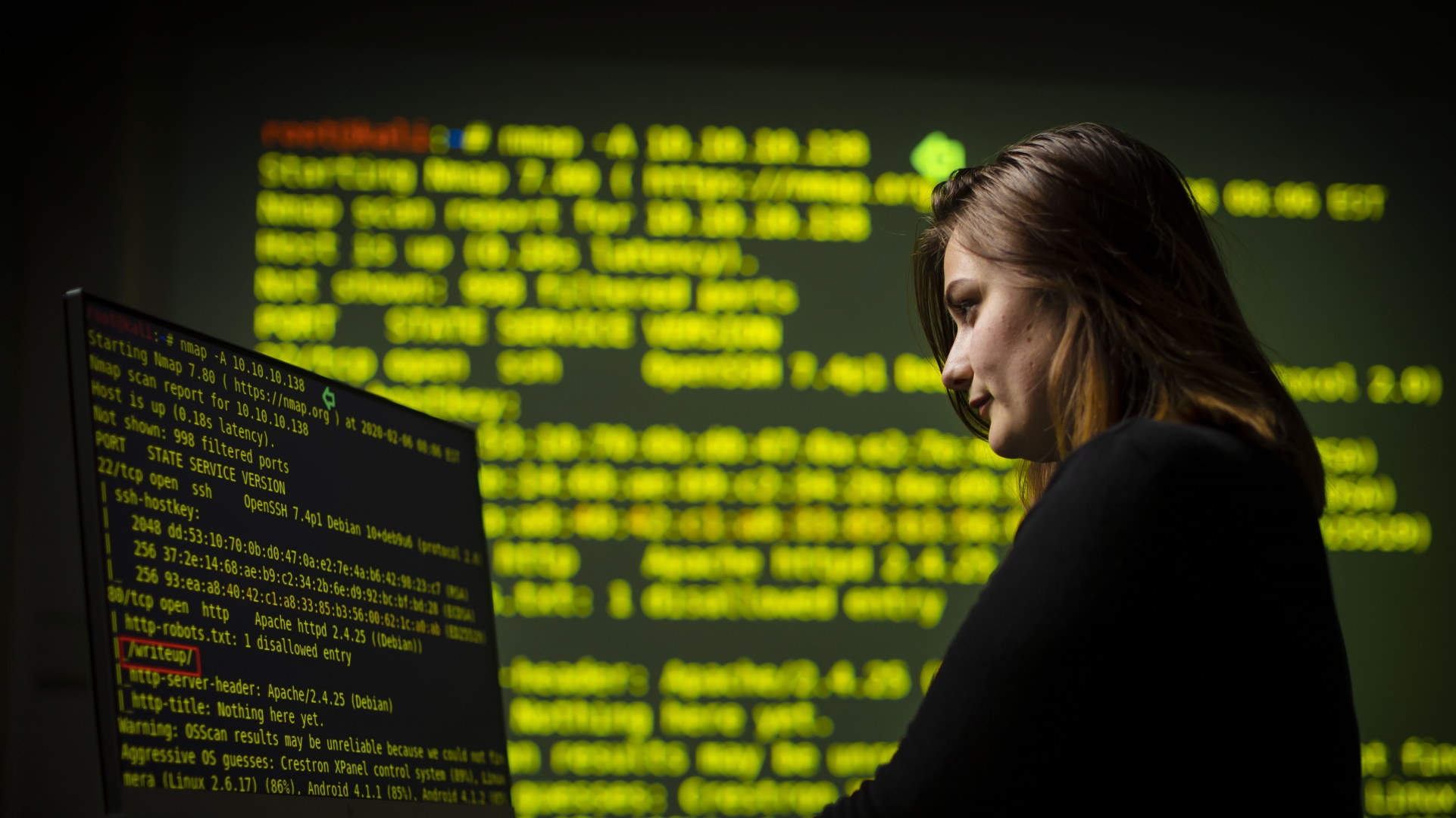 Have you ever wanted to develop an algorithm? Or wondered how self-driving cars actually work? If you're keen to use your problem-solving skills to create technology that will enhance today's society, then you are so welcome in computing science.
Location
Coventry University Wrocław (Poland)
Study mode
Full-time
Sandwich
Duration
4 years sandwich
3 year - Degree
Start date
March 2023
May 2023
July 2023
---
Course overview
Computing science is the study of how we interact with information and the role of computers in our daily lives.
With a computer science degree, you can explore a range of specialisms depending on your career goals. Industries looking for talented programmers include AI, computer security, machine learning, healthcare, and financial services.
Why Coventry University Wrocław?
At Coventry University Wrocław, we aim to offer a career-focused experience to our students, one that is traditionally academic but is also designed to help you progress in your future career. Our offering is flexible and designed to fit around your life, allowing you to benefit from a modern, forward-thinking higher education institution, reinforced by the quality and reputation of Coventry University. We are dedicated to making higher education accessible and enjoyable for as many people as possible, so we only to cover one module at a time, allowing you to become a specialist in each topic before moving onto the next.
---
What you'll study
This course will provide you with the opportunity to explore Computing Science from both an academic and a practical perspective. Throughout the programme, you will draw upon and develop a detailed knowledge of subject-related theory, technology, development methods and a range of professional and intellectual skills.
Year one of the programme introduces you to the core fundamentals that underpin computing science. You will explore the importance of IT security, and the risks posed to computer systems globally. In addition, you will develop your professional problem-solving skills, as you understand the basic principles of programming. Most of the modules in this year contain a practical element, so that you receive the best combination of theoretical and kinaesthetic learning.
Modules
Networking

This introductory module aims to provide knowledge of key networking and computer architectures. Focusing on the origins, structure and fundamental components of a computer network, you will gain foundational knowledge of relevant technologies including wireless, wired and optical computer networking. This includes access controllers, hubs, transceivers and more.

Operating Systems

In this module you will learn basic operating system concepts including processes, memory management, drivers and file systems, while examining security risks and security management strategies. You will also examine favoured operating systems such as Microsoft Windows and Mac OSX, with focus placed on the Linux operating system.

Information Security

Here you will cover the prevalent issue of IT security and risk. You will critically analyse risks a computer may face, from viruses to computer hacking. Exploring the pros and cons of ethical hackers, website hacking and internet security, you'll gain specialist knowledge of legal, social, ethical and professional issues associated with cyber security.

Problem Solving and Programming

Basic problem solving and algorithm design techniques will be studied in this module, alongside programming and programming language concepts. You will learn the syntax and semantics of a high-level programming language (e.g. Python) and the basic principles of developing well engineered software and the supporting tools and techniques.
As the course progresses, this academic year builds on the knowledge gained in year one to cement a solid foundation of core principles. Now that you are working to a higher level, you will begin building your knowledge and understanding of computer hardware and web development. It also covers programming concepts with a deeper investigation of algorithms and the importance of data security in today's world.
Modules
Computer Hardware

In this module you will study the methods and use of cryptography at two levels. Firstly, you will be introduced to cryptographic primitives and their use in developing secure systems. Secondly, you will be given the opportunity to use current implementations of crypto-based security systems for applications such as signing websites and encrypting emails.

Human Computer Interaction and Web Development

You will develop the skills necessary to gather, analyse and evaluate digital evidence by deploying digital forensic science techniques. The processes of forensic investigation and incident response will be studied, along with the application of digital investigation and evidence recovery techniques within a legal framework.

Algorithms and Data Structures

In this module, you will extend your programming and algorithm design skills and gain the ability to structure and manipulate intricate data sets through extensive work with complex programs. In addition, you will refine object-oriented analysis, design and implementation skills and learn to effectively utilise libraries, components and supporting tools.

Communications

In preparation for the final year project, this collaborative module aims to enhance your skillset by developing key skills such as communication, team working, co-operation and collaboration, project planning, commercial awareness, cultural awareness and distributed working. In addition, you will aim to develop the critical thinking, research, academic and professional writing skills required as a reflective practitioner.
There's no better way to find out what you love doing than trying it out for yourself, which is why a work placement can often be beneficial. Work placements1 usually occur between your second and final year of study. They're a great way to help you explore your potential career path and gain valuable work experience, whilst developing transferable skills for the future.
At this stage you will be confident with key computing functions, as you will explore hardware and software networking and popular operating systems at an advanced level. In the final year, you will enhance your critical understanding of Information Technology as an enabler for organisations and the complex and fast-changing trends in a business context. You will gain technical skills in relation to big data and service management. Students who successfully complete the final year are awarded a BSc (Hons) in Computing Science.
Modules
Big Data

You will work with databases and datasets of varying sizes and levels of complexity in this module, from small scale use to enterprise-scalable implementations. You will use technical skills to understand the big data ecosystem and carry out a range of data analytics tasks on large volume datasets.

Internet of Things

The underlying principles, technologies and architecture of wireless sensor networks will be examined in this module along with current practical applications and future trends. You will critically evaluate the security, privacy and trust implications of IoT technology and explore the approaches and mechanisms that mitigate security risks.

Contemporary Issues in Computing

This module focuses on a range of contemporary and emerging technologies, applications and professional issues in computing. Throughout the module, you will engage with research and advanced practice literature with the aim of extending and broadening your subject knowledge. There's a focus on professional, ethical, business and societal issues, through an international lens.

Project

You have the opportunity to focus on an area of interest within the field of Computing Science, which may be aligned to your future career interests. Throughout the project, you will need to demonstrate research, problem solving, design and development skills, through a practical implementation, investigation (possibly including the gathering and analysis of secondary evidence) and evaluation.
We regularly review our course content, to make it relevant and current for the benefit of our students. For these reasons, course modules may be updated.
---
How you'll learn
This course is available as a full-time three year or optional four-year sandwich course, the latter incorporating a work placement or study year in a related field1.
Our teaching methods are varied, offering a number of teaching styles to suit the needs of all our students, so in addition to lectures, we also utilise a blended learning approach, including online aspects, workshops and group work. Additional support is available via email and our online learning platform, Aula.
Progression through the modules develops knowledge and skills, including communication (written and oral), study skills, research methods, project management, presentation and career development. We will also encourage you to consider your employability and/or entrepreneurial development.
---
Teaching hours contact
Unlike traditional institutions, there are no end of year exams. Instead, learning is assessed through coursework and phase tests, which is more reflective of our learning model.
The contact hours may be made up of a combination of face-to-face teaching, individual and group tutorials, and online classes and tutorials. As an innovative and enterprising institution, the university may seek to utilise emerging technologies within the student experience. For all courses (whether on-campus, blended, or distance learning), the university may deliver certain contact hours and assessments via online technologies and methods.
The number of full-time contact hours may vary from semester to semester, however, on average, it is likely to be around 20 contact hours per week.
Additionally, you will be expected to undertake significant self-directed study of approximately 30 hours each week, depending on the demands of individual modules.

In response to the COVID-19 pandemic, we are prepared for courses due to start in or after the 2022/2023 academic year to be delivered in a variety of forms. The form of delivery will be determined in accordance with Government and Public Health guidance. Whether on campus or online, our key priority is staff and student safety.
---
Assessment
The learning outcomes of modules, assignments and projects will be clearly stated. Your work will be marked according to how well you achieve these learning outcomes and your final feedback will refer to each outcome, as well as providing an overall percentage grade.
Assessment methods vary and include, practical class and project performance, written practical reports, project thesis, laboratory experiments, tutorial tasks and assessments, which take place at the end of each six-week block.
The Coventry University Group assessment strategy ensures that our courses are fairly assessed and allows us to monitor student progression towards achieving the intended learning outcomes.
---
Polish requirements
| Requirement | What we're looking for |
| --- | --- |
| Polish Matura Exam | Satisfactory Grade |
| Polish Matura Extended Level | One subject at Grade 4 or 55% if higher. If one Extended Level subject is English at 75% or higher you do not require additional English Language qualifications |
| International Baccalaureate (IB Diploma) | 28 points |
EU requirements
| Requirement | What we're looking for |
| --- | --- |
| EU exams | We're here to help you understand which qualifications, diplomas and certificates you can use from your own country to meet our entry requirements. Contact us to find out more or find your home country on our EU entry requirements page. |
| International Baccalaureate (IB Diploma) | 28 points |
International requirements
For international students and regional specific information, find your home country on our regional entry requirements page.
English language requirements
A telephone interview to assess English language skills will be arranged for non-native English speakers.
If you hold IELTS Level 6.0 (with no component less than 5.5) or equivalent, you will not have to complete the telephone interview.
---
Fees and funding
| Student | Full-time | Part-time |
| --- | --- | --- |
| EU | 25,995 zł (EU) per year | Not available |
| International | 41,595 zł (non-EU) per year | Not available |
The following are additional costs not included in the tuition fees2:
Any optional overseas field trips or visits
Any costs associated with securing, attending or completing a placement (whether in the EU or abroad)
---
Facilities
Coventry University Wrocław will offer you a wide range of facilities to support your studies and help you succeed.
This campus offers the opportunity to study in fully equipped classrooms for interactive and collaborative teaching, IT suites purpose-built to support the needs of our students and also break out spaces3.
---
Careers and opportunities
On completion, you should be able to:
Use an enquiring, critical and reflective approach to computing science.
Develop practical skills to solve complex workshop-based problems.
Appraise a problem and debate alternative, sustainable solutions.
Key practical and transferable skills to enhance their long-term employability or to progress to specialist, postgraduate study.
Globally recognised, the technology industry boasts a number of compelling benefits. In addition to impressive graduate prospects and elevated salaries, computer science graduates have numerous opportunities in a diverse range of fields.
This varied industry means you can expand into a number of specialist areas. Possible career paths include Mobile and Software Application Development, Video Game Designing, Database Administration, Web Development, Network and Computer Systems Administration and IT Security.
---
How to apply
EU students

EU full-time students should apply directly to the university. Read our application pages to find out your next steps to apply.

---

For further support or more information about your course get in touch with us today.
Disclaimers

Coventry University Wroclaw is a branch campus of Coventry University. Coventry University together with Coventry University London Campus, CU Coventry, CU London, CU Scarborough and Coventry University Online come together to form part of the Coventry University Group (the "University") with all degrees awarded by Coventry University.

1 UK, Polish, and International opportunities

Please note that we are unable to guarantee any UK, Polish or International opportunities (whether required or optional) such as internships, work experience, field trips, conferences, placements or study abroad opportunities and that all such opportunities may be subject to additional costs (which could include, but is not limited to, equipment, materials, bench fees, studio or facilities hire, travel, accommodation and visas), competitive application, availability and/or meeting any applicable travel COVID and visa requirements. To ensure that you fully understand the visa requirements, please contact the International Office.

2 Tuition fees

The University will charge the tuition fees that are stated on the course webpage and in the prospectus for the first year of study. The University will review tuition fees each year and will be entitled to increase the fees in line with inflation based on the average annual index of consumer goods and services announced in the form of a communication by the President of Statistics Poland in the Official Journal of Poland "Monitor Polski". If the tuition fees are increased the student may withdraw from their student contract before that increase takes effect without incurring any financial penalty.

3 Facilities

Facilities are subject to availability. Due to the ongoing restrictions relating to COVID-19, some facilities (including some teaching and learning spaces) may vary from those advertised and may have reduced availability or restrictions on their use.

Student Contract

By accepting your offer of a place and enrolling with us, a Student Contract will be formed between you and the university. A copy of the 2022/23 contract can be found here. The Contract details your rights and the obligations you will be bound by during your time as a student and contains the obligations that the university will owe to you. You should read the Contract before you accept an offer of a place and before you enrol at the university.
---