Aviation Management BSc (Hons)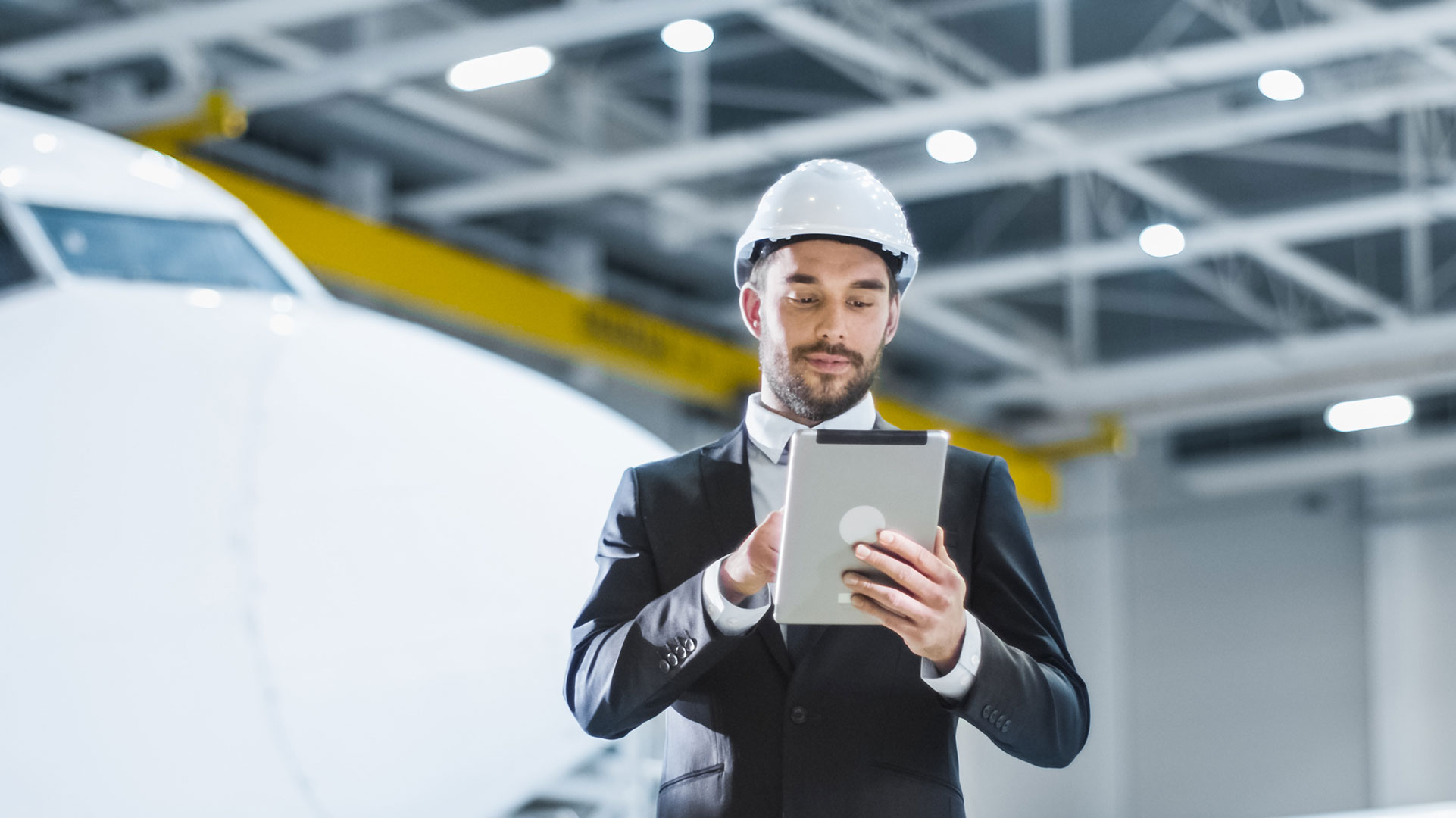 This is a highly focused business management degree designed to develop resilient professionals, able to proactively apply specialist knowledge, skills and capabilities in a diverse, global aviation industry.
Location
Coventry University Wrocław (Poland)
Study mode
Full-time
Sandwich
Duration
4 years sandwich
3 year - Degree
---
Course overview
Our innovative approach brings together business awareness, strategic thinking, technical understanding, and operational application, by embedding research with current examples.
We focus on the complex inter-relationships that exist between various stakeholders, such as airlines, airport operators, regulators, representative bodies and industry suppliers. The course is actively supported by guest lectures from expert industry practitioners and leaders. Visits to airports and airlines operations provide opportunities for students to bring their learning to life.
The course will cover management and transport systems theory, economics, aerospace engineering, logistics, transport geography, regulation and safety. The degree encourages a holistic appreciation of the complexities of the global aviation ecosystem through applied learning via utilising simulation, practical activities and exposure to the industry.
Why Coventry University Wrocław?
At Coventry University Wrocław, we aim to offer a career-focused experience to help you progress in your future career. Our offer is designed to fit around your life, allowing you to benefit from a modern, forward-thinking higher education institution, reinforced by the quality and reputation of Coventry University. We are dedicated to making higher education accessible and enjoyable for as many people as possible.
Official Course Partner

Collins Aerospace - Wrocław
From the smallest details to the highest pursuits, Collins Aerospace Wrocław is dedicated to redefining aerospace. The company is a leader in technologically advanced and intelligent solutions for the global aerospace and defence industry. Company experts in engineering and logistics share their knowledge and industry insights with Coventry University Wrocław students by delivering Fundamentals of Aeronautical Engineering and Flight Theory and Global Logistics and MRO Management modules. Collins Aerospace global presence: 67,000+ employees, 16,000+ engineering workforce, 300+ sites globally. Career opportunities with Collins Aerospace Wrocław
---
---
What you'll study
The course encourages students with an enthusiasm for commercial aviation, to develop and expand their understanding and engagement, and to raise aspirations for management and positions of leadership that will shape the future of the industry. The course offers an opportunity for individuals from a broad range of subject interests, experiences and backgrounds to immerse themselves and to develop the knowledge, skills and capabilities required to chart a successful career within the aviation industry.
Drawing on the expertise of the teaching team, the course brings together management and transport systems theory, economics, aerospace engineering, logistics, transport geography, regulation and safety, to provide a progressive learning journey culminating in a holistic appreciation of the complexities of the global aviation ecosystem. Our course team offer academic expertise and practical industry experience and seek to immerse the student in applied learning, utilising simulation, practical activities and exposure to industry.
This innovative course threads together the aviation ecosystem with business awareness, strategic thinking, technical understanding, and operational application, by embedding research and current practitioner inspired teaching and industrial engagement. Students are guided through the foundations of aviation management towards a focused and applied business and operational appreciation, and the course is actively supported by guest lectures from expert industry practitioners and leaders. Visits to airports and airlines operations provide opportunities for students to bring their learning to life (subject to availability).
Your first year aims to provide you with a fundamental understanding of the aviation ecosystem, a foundation of business management, economics, finance and data analytics, airport planning and design and an introduction to aeronautical engineering.
Modules
Foundations of Aviation Business Economics and Data Analysis

This module aims to introduce you to the functional aspects of business organisations with a fundamental understanding of financial and economic aspects of aviation management. It examines how demand and supply for aviation services is generated, and considers airline and airport costs, revenues, pricing; alongside an investigation of key economic and financial performance, trends and developments in aviation management.

Introduction to Aviation Ecosystem and Project Management

This module offers a holistic introduction to the aviation industry as a complex system comprising a large number of components and stakeholders, all interconnected by the need to comply with global and national regulations, and interdependent on each other to operate safely, efficiently and sustainably. This module also aims to introduce you to fundamental concepts of project management, applied within the context of the aviation industry.

Airport Planning and Design

This module aims to provide you with an understanding of the airport as a complex entity, comprised of multiple stakeholders and components, and subject to both numerous regulatory requirements and to pressures essential for sustainable development. Via interaction in a group-based project resulting in two in-class presentations, you will also have the opportunity to develop effective project management skills.

Fundamentals of Aeronautical Engineering and Flight Theory

The aim of this module is to give you a broad introduction to the fundamental concepts and approaches of aeronautical engineering. It covers the principal characteristics of modern aircraft propulsion, hydraulic and avionics systems together with the essentials of aircraft structures and aerodynamics. The connections between theory and practice are realised with emphasis being on the application of knowledge rather than on exposure to advanced science and mathematics.
In the second year we focus on airport operations, maintenance management, aviation safety, logistics, marketing and air service development and predictive analytics.
Modules
Global Logistics and MRO Management

This module considers the nature of Global Logistics and Maintenance Repair and Overhaul operations and investigates how they are managed. Drawing upon concepts of integrated logistic support, this module examines how strategic and tactical decisions of stakeholders (logistics and forwarding companies, suppliers, maintenance and engineering organisations, airlines, etc.) can be optimised to meet the current and future changing demands of the air transport industry.

Aviation Safety, Security and Airport Operations

This module conducts an in-depth analysis of the major components comprising an airport, and how each contributes to the efficient operation of the airport as a complex system. It will introduce you to the critical operational functions of safety, security and emergency planning within the aviation industry, and how these requirements have evolved as the industry has developed and confronted new threats.

Airline Marketing and Air Service Development

Marketing is a core business function in any industry. Airlines operate in a highly competitive environment and marketing and route development is considered vital for the wellbeing of the airline industry and the commercial air transport system. This module seeks to evaluate and apply marketing theory to an industry specific context using specialised software to support management decision making.

Predictive Analytics for Aviation

This module aims to enable you to effectively deploy contemporary approaches to predictive analytics to support pricing and revenue management; demand estimation and behaviour analysis for revenue optimisation and offer end-to-end customer solutions. It will also develop the competence needed to effectively apply forecasting and econometric tools in business planning and decision making for aviation stakeholders.
There's no better way to find out what you love doing than trying it out for yourself, which is why a work placement can often be beneficial. Work placements1 usually occur between your second and final year of study. They're a great way to help you explore your potential career path and gain valuable work experience, whilst developing transferable skills for the future.
During your final year, we will take a strategic and global approach to the aviation industry and focus on developing critical thinking, research and innovation skills culminating in the completion of a dissertation project. The skills of project management are taught and practised as part of a team, as well as within the context of individual research and development. We place particular emphasis on developing your skills in the use of IT systems, analytical techniques and the application of all taught aviation knowledge, which are progressively developed throughout your studies. The course culminates with your individual research project. Past students on this course in the UK have examined the sustainability of long-haul low-cost carriers, the rise and development of all-business-class airlines, and the usefulness nowadays of the in-flight safety demonstration.
Modules
Aviation Strategy and Finance

The future of the aviation industry depends on sustainable strategic and policy decisions by all stakeholders in the industry to meet the contemporary challenges facing the global aviation industry. Within this theme, you will be introduced to advanced strategic and financial management decision analysis tools that aim to enable you to evaluate and develop sound and financially feasible corporate, business and functional level strategies.

Airline Scheduling and Operations

This module will introduce you to the strategic challenges associated with managing the complex and unpredictable airline operational environment. Maintaining the network schedule lies at the heart of all airline operations management decisions, alongside ensuring that service quality standards are maintained and revenue is retained and maximised. As well as examining how airline schedules are constructed and the operation maintained, the module introduces simulation to demonstrate how planning and logic can be tested to support optimised operational decision making.

Strategic People Management in Aviation

This module introduces you to the strategic challenges associated with the management of people in the aviation industry. The role of the Human Resource function within an organisation is considered and contextualised to address some of the issues posed by the global and regulatory frameworks that govern the nature of the aviation industry. This module provides an overview of some theoretical perspectives of Human Resource Management (HRM) and explores current areas of debate to demonstrate how the effective management of people is a crucial component in enabling airlines in particular, to seek sustained competitive advantage.

Aviation Management Dissertation

This module aims to provide you with an opportunity to apply and develop your research skills and to extend your knowledge, understanding and critical thinking. You will choose an appropriate academic topic or an applied aviation industry problem and utilise your independent learning skills to research this area in-depth and provide recommendations with relevance for practitioners. As part of this module you are required to submit an online ethics application and to obtain ethical approval for the research project that you are proposing to undertake. Support and guidance will be provided by a project supervisor who will be the primary point of contact for this module.
---
How you'll learn
This course is available as a full-time three year or optional four-year sandwich course, the latter incorporating a work placement or study year in a related field1.
Our teaching methods are varied, offering a number of teaching styles to suit the needs of all our students, so in addition to lectures, we also utilise a blended learning approach, including online aspects, workshops and group work. Additional support is available via email and our online learning platform, Aula.
Progression through the modules develops knowledge and skills, including communication (written and oral), study skills, research methods, project management, presentation and career development. We will also encourage you to consider your employability and/or entrepreneurial development.
Unlike traditional institutions, there are no end of year exams. Instead, learning is assessed through coursework and phase tests, which is more reflective of our learning model.
The contact hours may be made up of a combination of face-to-face teaching, individual and group tutorials, and online classes and tutorials. As an innovative and enterprising institution, the university may seek to utilise emerging technologies within the student experience. For all courses (whether on-campus, blended, or distance learning), the university may deliver certain contact hours and assessments via online technologies and methods.
The number of full-time contact hours may vary from semester to semester, however, on average, it is likely to be around 20 contact hours per week.
Additionally, you will be expected to undertake significant self-directed study of approximately 30 hours each week, depending on the demands of individual modules.
In response to the COVID-19 pandemic, we are prepared for courses due to start in or after the 2022/2023 academic year to be delivered in a variety of forms. The form of delivery will be determined in accordance with Government and Public Health guidance. Whether on campus or online, our key priority is staff and student safety.
---
Assessment
The learning outcomes of modules, assignments and projects will be clearly stated. Your work will be marked according to how well you achieve these learning outcomes and your final feedback will refer to each outcome, as well as providing an overall percentage grade.
Assessment methods vary and include, practical class and project performance, written practical reports, project thesis, laboratory experiments, tutorial tasks and assessments, which take place at the end of each six-week block.
The Coventry University Group assessment strategy ensures that our courses are fairly assessed and allows us to monitor student progression towards achieving the intended learning outcomes.
---
Polish requirements
| Requirement | What we're looking for |
| --- | --- |
| Polish Matura Exam | Satisfactory Grade |
| Polish Matura Extended Level | One subject at Grade 4 or 55% if higher. If one Extended Level subject is English at 75% or higher you do not require additional English Language qualifications |
| International Baccalaureate (IB Diploma) | 28 points |
EU requirements
Requirement
What we're looking for
EU exams

We're here to help you understand which qualifications, diplomas and certificates you can use from your own country to meet our entry requirements. Contact us to find out more or find your home country on our

EU entry requirements page.
International Baccalaureate (IB Diploma)
28 points
International requirements
For international students and regional specific information, find your home country on our regional entry requirements page.
English language requirements
A telephone interview to assess English language skills will be arranged for non-native English speakers.
If you hold IELTS Level 6.0 (with no component less than 5.5) or equivalent, you will not have to complete the telephone interview.
---
Fees and funding
| Student | Full-time | Part-time |
| --- | --- | --- |
| EU | 25,995 zł (EU) per year | Not available |
| International | 41,595 zł (non-EU) per year | Not available |
The following are additional costs not included in the tuition fees2:
Any optional overseas field trips or visits
Any costs associated with securing, attending or completing a placement (whether in the EU or abroad)
---
Facilities
Coventry University Wrocław will offer you a wide range of facilities to support your studies and help you succeed.
This campus offers the opportunity to study in fully equipped classrooms for interactive and collaborative teaching, IT suites purpose-built to support the needs of our students and also break out spaces3.
---
Careers and opportunities
On successful completion of the course you should be able to:
Demonstrate knowledge and understanding of: the operation of organisations in the aviation industry, the role and practices of the various business functions within those organisations, such as airlines and airports, and their external environment; the processes, principles and practice fundamental to the operation of airports and airlines, as well as facilities that support air transport operations; the processes, principles, and practice fundamental to the operation of airline companies, including elements of engineering practice in the industry; established methods for the analysis and design of solutions for logistics problems and the management of warehouse and inventory logistics function in a variety of national and international contexts; a range of current and emerging engineering and business issues affecting the aviation industry.
Undertake a problem analysis and exercise reasoned judgement in assessing business and technical requirements, as well as demonstrate techniques to enable the effective control of an aviation or a logistics system.
Conduct effective problem solving, design and decision making using appropriate quantitative and qualitative skills in the identification, formulation and solution of business and technical problems of aviation and logistics industries.
Synthesise requirements and opportunities in order to recommend appropriate aviation management policies.
Conduct research into technical and management issues being familiar with a range of data, research sources, and appropriate methodologies.
Apply numeracy and the quantitative skills involved in data analysis, interpretation, and modelling of problems and phenomena in the aviation and logistics industry.
Select and use appropriate methods of information and communications technology for business and engineering applications.
Demonstrate an awareness of professional responsibilities, including an understanding of the associated ethical and legal issues such as regulations relevant to flight, air travel, and associated ethical, legal and business concerns, deregulation, privatisation, air service agreements, and aviation law.
The aviation industry is booming, with passengers forecast to more than double in the next 18 years. This course aims to prepare you for a wide range of career options within the aviation industry – from airline and airport management to air transport consultancy, roles with industry suppliers and manufacturers or in international logistics.
It is anticipated that employment opportunities will be strong with graduates potentially progressing to roles in airport and airline operations management, consultancy, finance and revenue management as well as various graduate schemes and further postgraduate study.
Where our graduates work
Previous graduates of the Coventry University degree have obtained jobs with the following companies;
Birmingham Airport, Cluj Avram Iancu International Airport, Coventry Airport, Heathrow Airport and Malaysia Airports Holdings Berhad.
Our Coventry University graduates also work for Aegean Airlines, Air Burundi, Air Charter Service, bmi, British Airways, British Airways World Cargo, Cathay Pacific Airways, CityJet, DHL, Eastern Airways, easyJet, Flybe, ExecuJet, Jet2, Lufthansa, Monarch, Pakistan International Airlines, PrivateFly, Star Alliance, Thomsonfly, Universal Aviation and Virgin Atlantic.
A number are employed by aviation regulatory bodies, such as the International Air Transport Association and Pakistan CAA.
---
How to apply
EU students

EU full-time students should apply directly to the university. Read our application pages to find out your next steps to apply.

---

For further support or more information about your course get in touch with us today.

International students

International full-time students should apply directly to the university. Read our application pages to find out your next steps to apply.

---

For further support or more information about your course get in touch with us today.
Disclaimers

Coventry University Wroclaw is a branch campus of Coventry University. Coventry University together with Coventry University London Campus, CU Coventry, CU London, CU Scarborough and Coventry University Online come together to form part of the Coventry University Group (the "University") with all degrees awarded by Coventry University.

1 UK, Polish, and International opportunities

Please note that we are unable to guarantee any UK, Polish or International opportunities (whether required or optional) such as internships, work experience, field trips, conferences, placements or study abroad opportunities and that all such opportunities may be subject to additional costs (which could include, but is not limited to, equipment, materials, bench fees, studio or facilities hire, travel, accommodation and visas), competitive application, availability and/or meeting any applicable travel COVID and visa requirements. To ensure that you fully understand the visa requirements, please contact the International Office.

2 Tuition fees

The University will charge the tuition fees that are stated on the course webpage and in the prospectus for the first year of study. The University will review tuition fees each year and will be entitled to increase the fees in line with inflation based on the average annual index of consumer goods and services announced in the form of a communication by the President of Statistics Poland in the Official Journal of Poland "Monitor Polski". If the tuition fees are increased the student may withdraw from their student contract before that increase takes effect without incurring any financial penalty.

3 Facilities

Facilities are subject to availability. Due to the ongoing restrictions relating to COVID-19, some facilities (including some teaching and learning spaces) may vary from those advertised and may have reduced availability or restrictions on their use.

Student Contract

By accepting your offer of a place and enrolling with us, a Student Contract will be formed between you and the university. A copy of the 2022/23 contract can be found here. The Contract details your rights and the obligations you will be bound by during your time as a student and contains the obligations that the university will owe to you. You should read the Contract before you accept an offer of a place and before you enrol at the university.
---