Celebrating International Women's Day
At Coventry University we pride ourselves on having a diverse student and staff population. From being awarded a Bronze Athena Swan award, to honouring International Women's Day (IWD) across the faculties - see how we have celebrated diversity and explore our vision of equality through this special day.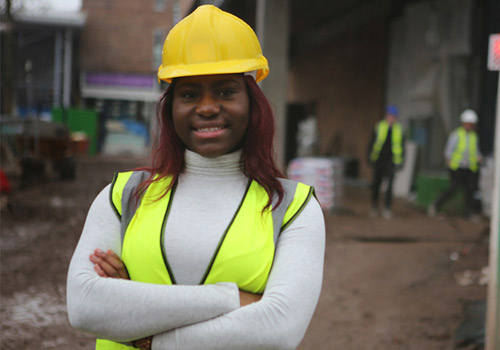 Painting with Purpose- Mariaha Malik for International Womens Day 2019
What our students have to say
With our students at the heart of our University, we have a range of STEM courses from which many success stories of our female students in engineering are showcased.
Throughout my time at university I have been given the tools I need to make an impact on the world in the way in which I want to do it.
The best thing about my course is the variation of the modules taught…the course has so many aspects in it.
I have also seen in Coventry University, they follow work ethics and gender equality and also, they are in search of women who are interested in this field.
CUSU: Exclusive Film Screening with Meera Darji
Where: GEG32
When: March 8th, 2018
Time: 18;00-20:00
Meera Darji the Director Of award winning film TransIndia will be exclusively screening her hew documentary following the compelling lives of female construction workers in India. Following the premiere screening there will be a Q&A opportunity with Meera herself.
CUSU: International Women's Day Graffiti Mural
Where: TheHub
When: March 8th, 2019
Time: 10:00-15:00
Andy Clare Coventry based graffiti artist is producing an International Womens Day inspired graffiti mural based upon this years theme of "Balanced for Better" outside The Hub. Join us to intercat with this mural and leave your own inspirational quotes.
CUSU: 'The Future is Balanced: International Women's Day Talk'
Where: GEG31
When: March 7th, 2019
Time: 18:00-20:30
A panel of four entrepreneurial Coventry women will be discussing their journey's and the road to female empowerment. The talk willl be followed by a Q&A session with the speakers. There will be an opportunity for attendees to win two pairs of theatre tickets to 'Under the Umbrella' at the Belgrade Theatre, which has been directed by a spekaer, Justine Themen.
Speakers are: Fleur Sexton, Trish Willets, Justine Themen and Holly Matthews.