Celebrating International Women's Day
At Coventry University we pride ourselves on having a diverse student and staff population. From being awarded a Bronze Athena Swan award, to honouring International Women's Day (IWD) across the faculties - see how we have celebrated diversity and explore our vision of equality through this special day.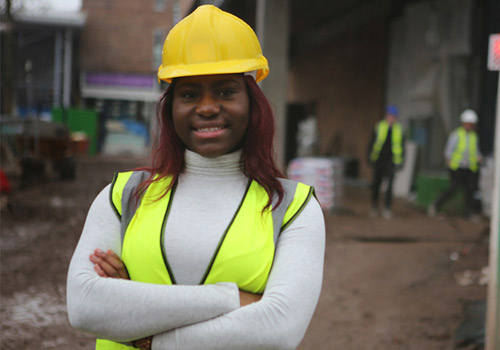 Painting with Purpose- Mariaha Malik for International Womens Day 2019
What our students have to say
With our students at the heart of our University, we have a range of STEM courses from which many success stories of our female students in engineering are showcased.
Throughout my time at university I have been given the tools I need to make an impact on the world in the way in which I want to do it.
The best thing about my course is the variation of the modules taught…the course has so many aspects in it.
I have also seen in Coventry University, they follow work ethics and gender equality and also, they are in search of women who are interested in this field.
Date: Monday 9 March
Time: 6-9pm
Location: George Elliot, G.32
TRANSINDIA is an inspiring documentary exploring the Transgender community (Hijras) in Ahmedabad, India, by Meera Darji, an ambitious filmmaker with a passion for telling real stories of voiceless communities and people living on the margins of society.
Meera will be sticking around after the screening for a Q&A where you can find out what its like to be a female director in a male dominated industry, her incredible journey so far, and more!
Date: Monday 9 March
Time: 12-1pm
Location: WM129
Join this inspirational seminar with Professor Christina Hughes, Interim Deputy Vice-Chancellor (Education and Student Experience) at the University of Kent, and visiting professor at the university's Centre for Global Learning, Education and Attainment.
"I have an unfulfilled ambition – I would like to be wise. By this I mean I would like to have learnt the lessons of my career so that I can avoid making them again (and again, and again). And of course some of these lessons are well learnt – I have accumulated knowledge and understanding that has enabled me to navigate many parts of university life and masculinity at work. However, there are some lessons that don't stick. Why might this be? My talk shares with you some of these lessons – both learnt and non-learnt and indeed some I still need to unlearn. I also invite you to share your wisdom so that we can each be better equipped to accelerate change for a more equal world."
Date: Wednesday 11 March
Time: 1-2pm
Location: WM129
Thinking of going for a promotion? Want to develop your leadership skills in your current role? Come and speak to a panel of female Aurora alumni/champions and ask questions about their journey and what they have learned about women in leadership. This question and answer session will cover topics such as work/life balance, influencing change, identity and impact and navigating politics in the workplace. Alumni will share how they are applying new skills and outlooks in their roles. Please bring your questions with you!
Facilitator: Marie Sams
Panel: Lorraine Gearing, Stacey Jones, Nik Beer
Date: Thursday 12 March
Time: 6-8pm
Location: Richard Crossman, G.33
The Student's Union hosts a panel discussion around the international campaign, #EachForEqual, for Women's Day 2020.
Date: Thursday 12 March
Time: 12-1pm
Location: WM129
Christine is a Chartered and registered Occupational Psychologist and Deputy Head of School. Her research focuses on the impact of technology on wellbeing and in particular the way we manage boundaries between our work and non-working lives. She is currently writing a book on agile working and the changing nature of working practices for future work. This session will introduce and define resilience, explore the impact of technology on our lives, consider the characteristics of what makes us resilient and how to help manage negative thinking. Together we will explore how to thrive and flourish in a sometimes difficult and changing environment. When considering resilience we will consider throughout the session how gendered issues may impact our resilience.