What our students say
I chose to study Operating Department Practice because it offers the opportunity for me to work in a theatre environment where I will be challenged on a daily basis. It has also given me the chance to study in three different areas: scrub, anaesthetics and recovery, all of which have allowed me to exhibit a variety of strengths. Previously I had worked in pharmacy, and studying anaesthetics has allowed me to keep up to date with medication and exert the knowledge I already have. Coventry University offered me the course I wanted to study, in a totally different environment. It has a brilliant reputation for Health and Life Sciences and as a university as a whole.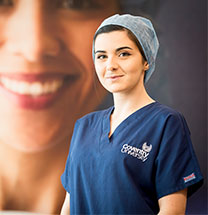 The teaching is a good combination of lectures and seminar-led and independent learning. There are plenty of facilities available for additional support. The library and computer suites offer quiet places to study and the Centre of Academic Writing provides a service to receive feedback and improvement on assignments.
The campus is vast. I have enjoyed socialising with my colleagues and the Hub offers an area to relax and eat in the food hall.
I definitely feel that studying at Coventry has helped develop me as an individual. Moving away from home into a city that I was unfamiliar with was a challenge but I have really enjoyed meeting new people and making some incredible friends.
I have definitely developed professionally, studying a subject which is very patient-professional orientated has developed my communicative skills and allowed me to show empathy to others.
I am extremely optimistic about my future prospects. Studying this course and being self-driven has already allowed me to secure a job for when I qualify, to start my career as an Anaesthetic Practitioner in the south.
---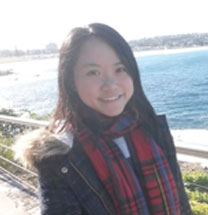 I enjoyed studying human biology but wanted a more practical course at university. Since secondary school in Hong Kong I wanted to study aboard and Coventry University has provided me an opportunity to explore the great variety of cultures and languages.
I've especially enjoyed the placement element; the University arranges the placements so I didn't need to worry about whether I would get enough clinical hours before being qualified. You're allocated to different specialties - musculoskeletal, neurological and cardiorespiratory - and therefore I gained a great variety of working experiences.
Also, there are only around 12 people in tutorials in the Leicester cohort, which is a really good opportunity for me to ask questions and discuss with course mates.
My favourite module has been anatomy in first year because it involved a lot of practical elements. We had to practice with each other to test muscle strength and length. I also had an opportunity to see the real muscles from the bodies in Leicester medical building in my first year. It is a challenging but very useful module!
As English is not my first language, I was very lucky to have such support from my educators and they printed me a list of words that physiotherapists tended to use in medical notes for me as a reference. This helped me improve a lot and my words have become more accurate and I feel more confident.
---
Placements: Save the Children and NHS Coventry University Hospital
The University's various supports for UK work experience have been of tremendous help to me. I have received training on the ASSET training run by the Centre for Global Engagement. In addition, I have benefited from one-on-one support I received from the HLS Employability Placement Unit. The support ranged from CV writing, cover letters and mock interviews.
As I was not a registered nurse in the UK, I was not able to practice or gain experience as a nurse. However, I have gained transferable skills from working with varied organisations.