Employer case studies
Placement: Arquebus Solutions
As part of our ongoing projects, Connor (BSc Forensic Investigations) has been working with Arquebus for the past 12 months, on his sandwich placement year, supporting our clients overseas. Connor's exceptional performance during his time with us has been recognised by being awarded the Hays Specialist Recruitment Prize 2015 in a special ceremony in association with Coventry University graduation.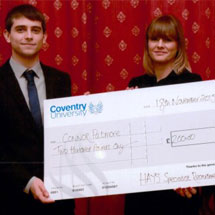 Connor has truly impressed the entire team with his work ethic and dedication. He is a glowing example to other forensic students, in being able to adapt and learn in a respectful, helpful and dedicated manner. It is without question that he will be welcomed back to Arquebus, into a graduate role, following the successful completion of his studies.
Placement: Cambridge Scientific Solutions
Life Sciences students at Coventry University have been working with a science and technology firm on an innovative solution to a problem faced by pubs and bars across the world.
Biomedical Science undergraduates Raquel Rossiter and Daniel Parfitt are on placement with Stamford-based Cambridge Scientific Solutions (CSS) to help refine its new technology which keeps pubs' beer dispense lines free from unwanted 'biofilm' – extending the life of beer and preserving its taste.
Raquel and Daniel are working out of the University's microbiology labs in Coventry to help CSS understand precisely how its pioneering 'Beer Saver' system is working at a detailed microbial level – and to understand how the technology could be developed and used in other sectors such as healthcare.
This will be an invaluable insight into a professional scientific environment for Raquel and Daniel, and it'll stand them in very good stead when they graduate into the world of work. To have the opportunity to work on a piece of science and technology that has such intriguing potential, not only for industry but also for healthcare, is a tremendous experience and a real feather in their caps.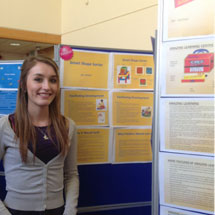 Designbytouch
Successful Psychology students pitched their ideas to the Senior Designer at Designbytouch Ltd., a Leamington-based, independent design agency, specialising in Toy and Game design, working with all the major toy companies across the industry. The Psychology course team approached the Faculty HLS Futures – Employability Support Team to identify a corporate sponsor for their innovative module, Individuals in Society, examining Educational and Child Psychology, and part-assessed through a poster competition to pitch their ideas for a toy, designed to support young children's development.
Placement: Blue Coats Academy
Blue Coats Academy, has for the third year running offered Apprentice Science Technician Placements for Coventry University biologists or chemists/analytical scientists.
Blue Coats has provided some very positive feedback about students on the scheme. Marina Friend, Senior Science Technician reported that she was 'very pleased with the help from the volunteers who were doing their Work Experience Placement at our school from last November' going on to describe all five students as 'brilliant'.
Students joined a busy and thriving Sciences Department in the new and exciting role of 'apprentice lab technicians'. The placements are generally for one or two days per week subject to students 'timetables. The Academy has also included CLEAPSS professional body 'Induction and Training of Science Technicians' to the students training programme - excellent CV enhancing continuing professional development.