Industrial Placements
EEC Futures manages a highly successful Industrial Placement Scheme in which students complete a year in industry as part of their course. They receive academic credit and are regularly visited by their academic supervisor. There is no fee for students to pay for this academic year and all accreditation and support associated with it. Since the inception of EEC Futures in 2011, students completing industrial placements have risen by an amazing 241% and EC Future students earned a combined total of £4,800,000 on placement last year alone!
EEC Futures was awarded 'Best University Placement Service in UK, 2015' and 'Best University Placement Service in UK, 2016' by the National Undergraduate Employability Awards (run by Rate My Placement). In 2015/16, 311 students are on full time paid placements across 167 technical employers.
The team has strong links to business partners across a range of industries, managing a huge number of exclusive placement vacancies. Through this intensive involvement with employers we are able to deliver unique opportunities for our students.
Many of our students have secured employment upon graduation at the company in which they undertook their and industrial placement. 96.1% of Faculty of Engineering and Computing students in employment that went on placement secured a 'Graduate Level' role. (DLHE 2012-13).
Choosing a placement year will not only show how your academic studies relate to your chosen profession, but can also significantly enhance your future career prospects.
Read about our student experiences'
Mark Richards - Placement at JCB
Aerospace Technology BEng (Hons)
My undergraduate placement at JCB was a truly rewarding opportunity and I would highly recommend any student to do a placement and experience what the world of work is like as a professional adult.

I have returned to University to complete my final year as a more switched on, independent and motivated student. I have also secured a job offer with JCB as a Design Engineer after I graduate from university. I can guarantee a placement will be an unforgettable experience, and has the potential to develop into a future career.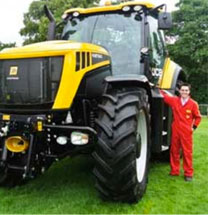 Sali Raiza - Placement at BMW Mini
Electrical and Electronic Engineering BEng (Hons)
The support I received from the EEC Futures department was very beneficial and helped me in my search for a placement. They gave me some very important tips while constructing my CV and covering letter.

Sometimes, the placement search may seem futile but I can say that it's worth the hassle. The available support and guidance have been a positive influence and has helped me secure a placement.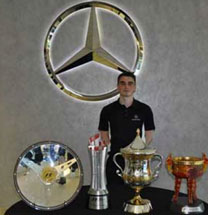 Cappa Hughes - Placement at Mercedes AMG
Motorsport Engineering BEng (Hons)
I was offered and accepted an internship within Mercedes AMG High Performance Powertrains, where I was based in the Manufacturing and Quality department throughout the year. I gained an immense amount of technical knowledge in terms of modern manufacturing techniques supported by a range of pioneering quality processes.

Thanks again to the EEC Futures team for the support in finding a placement. Working in Formula One has been my dream job for a very long time, and with their assistance I managed to achieve this by the age of 21.
Leo D'Arcy - Placement with Microsoft as a Lab Engineer
I am involved on a day to day basis with maintaining and upgrading our department's data centre. This includes provisioning servers, setup, network and infrastructure management as well as looking forward to take advantages of new technologies as they become available.
Sidarth Thrumurthy - Placement at Brigge Automotive Company
Motorsport Engineering BEng (Hons)
The events organised by the EEC Futures team, with representatives from the biggest engineering companies, helped me understand what skill set employers were looking for in their candidates. I would definitely encourage people to use the help of the team. I am very sure I would not have made it to this job without their help.
Toby Pratt - Morgan Composites and Defence Systems
Aerospace Systems Engineering BEng (Hons)
I was offered a 12 month placement position with Morgan Composites and Defence Systems who make world leading ballistic body and vehicle armours in Coventry in 2015. The recruitment process was efficient and straightforward – I was interviewed by one of the Lead Engineers so felt I got to talk directly to a member of the Engineering team that I would be assigned to. Throughout the twelve months I worked directly on a number of international, complex and highly engineering ballistic platform armours. I was closely mentored throughout this time but given every exposure to the whole process of design, prototype development and testing and design for manufacture techniques. I must have added some value because they have offered me a contract to return on a permanent basis in June 2017.
I would thoroughly recommend this experience to other engineers and would like to thank EEC Futures for all their help in both finding and supporting me throughout the placement.