About us
The School of Life Sciences delivers a broad provision of science related academic themes including Biomedical Science, Sport and Exercise Science, Food and Nutrition, Sport Therapy and Forensic Science.
Our multidisciplinary courses focus on areas including the biological basis of human health and disease, analysis of the chemical composition of materials and the evaluation and defence of forensic evidence against legal challenge.
Courses also concentrate on the application of scientific principles to the way the body functions during sport and physical activity, prevention and treatment of injuries, food science, nutrition and diet-related health issues.
From specialised laboratories with a focus on experimentation and methodical analysis to our expert strength and conditioning suite, we believe in hands-on-learning and our facilities are the ideal environment for the study of life at every level.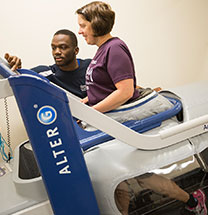 Teaching is influenced not only by our provision of consultancy to external clients but our associated Faculty Research Centre, Sport, Exercise and Life Sciences, which achieved a REF2014 score in which the majority of our research was judged to be world leading or internationally excellent.
Find out more information about our School of Life Sciences staff.
As home to the largest selection of forward thinking vocational health and social care courses in the Midlands, we have a variety of specialised locations across campus to fulfil our students requirements.
Our multi-million pound Alison Gingell Building is an investment in the future of Science and Health. The building features state-of-the-art healthcare simulation and laboratories for students.
Ambulance Room
Sports Therapy Clinic
Running Track
Super-Lab for up to 240 Biomedical Science students
And more laboratories for areas including Biomechanics, Sport Science, and Chemistry