Su Jones
MY RESEARCH VISION
My research is inspired by seeking to find new ways to engage in bottom up ethnographically led research which challenges theory based assumptions about white working class communities and identity. I am interested in developing ways of generating change in creating dialogues between state agencies and predominantly white working class communities regarding the challenges of social cohesion. I am also developing my work on exchange of cultural and social capital in working class communities, working pubs my work looks at formation and performance of class and gender identity and the importance of pubs as alternative community spaces.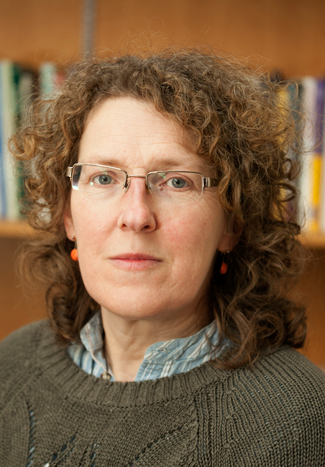 Senior Research Assistant
Building: James Starley
Room: JSG12
BIOGRAPHY
Su Jones began her academic career at Durham University as a mature student, having attended Fircroft College Birmingham. Her undergraduate dissertation, 'Comrade Pet' used discourse analysis to examine interactions between men and women members of the Socialist Worker's Party (SWP) in party meetings. From there she moved to the Centre for Contemporary Cultural Studies at Birmingham to write her master's thesis on female gender identity denial in favour of class identity among at women members of the SWP. She is currently completing her doctorate at Birmingham concerning cultural and social capital, gender and class identity based in the pub on the estate where she lives.
She has taught in adult education, as well as the University of Birmingham and Birmingham City University. Having been involved in various projects looking at engagement with groups that are considered 'hard to reach' she is keen to continue working on looking at difficulties experienced by state agencies in engagement with various 'communities'.
SELECTED OUTPUTS
Marsh, D., O'Toole, T., Jones, S. (2007) Young People and Politics in the UK: Apathy or Alienation? Basingstoke: Palgrave Macmillan
O'Toole, T., Marsh, D., and Jones, S. (2003) 'Political Literacy Cuts Both Ways: The Politics of Non-participation among Young People'. The Political Quarterly 74 (3), 349-360.
O'Toole, T., Lister, M., Marsh, D., Jones, S., and McDonagh, A. (2003) 'Tuning Out or Left Out? Participation and Non-participation among Young Peoples'. Contemporary Politics 9 (1), 45-61.
Marsh, D., Jones, S., and O'Toole, T. (2004), 'Using Photographic Images: A Less Intrusive Method', Scoping the Civil Renewal Agenda Conference. held 14 September 2004 at the University of Birmingham, UK
John, S.F., Wright, J.P., Mathers, J., Jones, S., and Orford, J. (2006) 'Opportunities for and Constraints to "Bottom-up Community Participation"'. Policy Studies 27 (4), 347-361.
SELECTED PROJECTS
Explaining Non-Participation: Towards a Fuller Understanding of the Political. Young People and Political Participation. Project based on qualitative research with young People and their political participation.
Three Estates Project. Ethnographic research on non-engagement between residents and state representatives in a New Deal for Communities project.
Resistance to Smoking Cessation messages amongst Pakistani men aged 18-54. Qualitative Pilot project on non-engagement with smoking cessation information.