Dr. Rosie Day
My research vision
My research is concerned with environmental sustainability and social justice. My motivation is to work towards a society that is fair and promotes the wellbeing of all, whilst respecting the environment.
Biography
Rosie completed a BSc in Environmental Sciences at the University of East Anglia and worked in private sector research and local government before returning to academia. She gained an MSc in Social Research Methods from the London School of Economics, followed by a PhD in 2004 from the Department of Geography at University College London. She was awarded a one year ESRC postdoctoral fellowship at UCL, and then took up a post as research fellow at the Department of Urban Studies, University of Glasgow in 2005, working within the Scottish Centre for Research on Social Justice. Rosie joined the School of Geography, Earth and Environmental Sciences at Birmingham in August 2007.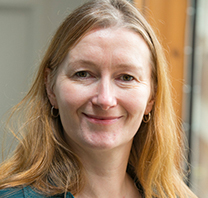 Senior Lecturer in Environment and Society, University of Birmingham
Building: GEES
Room: 335
Selected outputs
Day R. and Walker G. (2013) Energy vulnerability as an assemblage. In K Bickerstaff, H Bulkeley and G Walker (eds) Energy and Justice in a Changing Climate. Zed books, London.
Walker G, Day R. (2012) Fuel poverty as injustice: integrating distribution, recognition and procedure in the struggle for affordable warmth. Energy Policy.
Hitchings R, Day R. (2011) How older people relate to the private winter warmth practices of their peers and why we should be interested. Environment and Planning A, 43, 2452-2467.
Day R, Hitchings R. (2011) "Only old ladies would do that": age stigma and older people's strategies for dealing with winter cold. Health and Place, 17, 885-894.
Day R, Wager F (2010) Parks, streets and 'just empty space': the local environmental experiences of children and young people in a Scottish study. Local Environment,
Day R. (2010) Environmental justice and older age: consideration of a qualitative neighbourhood –based study. Environment and Planning A, 2658-2673.
Wager F, Hill M, Bailey N, Day R, Hamilton D and King C (2010) The impact of poverty on children and young people's use of services. Children and Society 24.4
Grant E, Silver K, Bauld L, Day R, Warnakulasuriya S. (2010) The experiences of young oral cancer patients in Scotland: symptom recognition and delays in seeking professional help. British Dental Journal 208 (10) p465-471.
Day R, Hitchings R (2009) Older People and their Winter Warmth Behaviours: Understanding the Contextual Dynamics (PDF - 3.87MB) School of Geography, University of Birmingham / Dept Geography, UCL.
Day R (2008) Local environments and older people's health: dimensions from a comparative qualitative study in Scotland. Health and Place, 14(2), p299-312
Selected projects
DEMAND: Dynamics of Energy, Mobility and Demand. RCUK funded End User Energy Demand (EU-ED) Research Centre 2013-2018: Co-Investigator. PIs Professor Elizabeth Shove and Professor Gordon Walker, University of Lancaster. The £4.9million DEMAND Centre is the largest hub of social science work on energy demand in the UK. It takes a distinctive approach to end use energy demand, recognising that energy is not used for its own sake but as part of accomplishing social practices at home, at work and in moving around. This approach generates an ambitious research agenda that is crucial for organisations involved in demand management and in radically reconfiguring infrastructures, buildings and transport systems in line with greenhouse gas emissions targets. In this research centre, I co-lead a project on mobility in retirement which will run 2014-16 and co-lead a further work stream on energy justice, running 2013-17.
Stories of Change: Exploring energy and community in the past, present and future. AHRC funded 2014-17 (Connected Communities stream): Co-Investigator. PI: Joe Smith, Open University. The Stories of Change project is an innovative, multi-disciplinary project which will work with communities in England and Wales to co-crete, analyse, circulate and broadcast narratives about community relationships with energy in the past, present and future. The project team includes architects, historians geographers, media producers and literature experts and we will work in collaboration with community arts organisations and artists including Visiting Arts and Tipping Point.
2 Genders: Generation and Gender Energy Deprivation: Realities and Social Policies. Funded by the Belgian Science and Policy Office 2014 -17: Policies. Funded by the Belgian Science and Policy Office 2014 -17 and International Partner. PI: Francoise Bartiaux, Universite Catholique de Louvain. Energy poverty is a real concern in current Belgian society, as economic inequalities and energy prices are on the rise and price increases in housing and energy differentially affect the poorest sectors of society. Belgium has named energy poverty as an area for action in its federal plan to tackle poverty. The 2Genders project will describe the phenomenon and the populations affected, ascertain the wider impacts of energy poverty on social relations, mobility and self-reported health, and design and deliberate possible interventions with a range of important stakeholders including the energy poor. Particular attention will be paid to gender and generational aspects because there is good reason to believe that energy poverty is not manifest equally between genders and generations.
Thermal management practices of older people during winter: accounting for the contextual dynamics: R Day and R Hitchings (Dept Geography UCL) 2008-9 funded by the Nuffield Foundation. This project uses in-depth qualitative interviews and photo diary methods to examine how older people at different levels of affluence manage their thermal comfort as they pass through the winter, using heating systems, movements, technologies and other material objects such as clothing. By focussing upon everyday practices and on how particular behaviours come to seem sensible and routine with regard to staying warm, it aims to provide a detailed understanding of the factors that structure this seasonal adaptation, including economic resources, physical infrastructures, age-related biophysical changes and cultures of ageing. The wider aim is to use findings to inform debate about thermal management behaviours within ageing societies such as ours and make timely contributions to policy agendas that promote both winter wellbeing for older people today and more sustainable forms of domestic consumption in the future.