Professor Charlotte Waelde
MY RESEARCH VISION
My research is inspired by my desire to deepen and expand my knowledge around how the legal frameworks regulating intellectual property in general and copyright in particular are shaped in response to developments in technology. Allied to this is my quest to understand how those laws impact upon the work of those to whom they seek to regulate. Most recently my research has moved into the domain of intangible cultural heritage where I focus on how contemporary practices can become part of the heritage ecosystem and, importantly, how such practices can then benefit from the formal, and protective legal frameworks.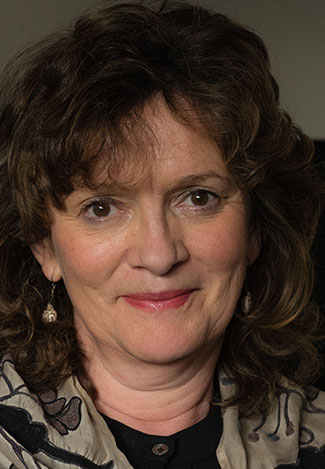 Professor of Intellectual Property Law

Building: ICE
Email: ac2450@coventry.ac.uk
BIOGRAPHY
The focus of Charlotte Waelde's work lies at the interface between intellectual property law (particularly copyright) and changing technologies, the changes in the law wrought by those technologies, and the impact that those changes have on the way that the law is both perceived and used by the affected communities. Her work reaches out into other domains including intangible cultural heritage, human rights, competition law, international private law and the regulation and promotion of new technologies more generally as they intersect with my core interests.
Charlotte's current work is supported by the AHRC, and the European Commission through the FP7 framework and the Competitiveness and Innovation framework programme 2007 - 2013.
Charlotte worked in the Law School at the University of Edinburgh from 1995 – 2010 being appointed as Professor of Intellectual Property Law in 2008; in 2010 she joined the University of Exeter Law School as Professor of Intellectual Property Law and Head of School; and in 2016 joined C-DaRE as Professor of Intellectual Property Law. Charlotte was also a commercial lawyer in practice from 1991-1995.
Charlotte has and holds a number of posts within the community including Chair of the UK Intellectual Property Office Research Advisory Group; AHRC Digital Transformations Theme advisory group and she was an output assessor for the Law Panel at the 2014 REF.
Charlotte is a member of a number of editorial boards including International Review of Law, Computers and Technology and the Web Journal of Current Legal Issues. She is also an occasional assessor for a range of other journals and publishers including Modern Law Review; SCRIPT-ed; IIC; EIPR; Edward Elgar; Cambridge University Press.
SELECTED OUTPUTS
Whatley, S., Harmon, S., and Waelde, C. (2015) 'Being Visible: Dance, Disability and Difference'. in Stock, C., and Germain-Thomas, P. (eds.) Contemporising the past: Envisaging the future, World Dance Alliance, '2014 World Dance Alliance Global Summit'. Held 6-11 July 2014 in Angers, France. World Dance Alliance and Ausdance.
Whatley, S., Waelde, C., Brown, A., and Harmon, S. (2015) 'Validation and Virtuosity: Perspectives on Difference and Authorship/Control in Dance'. Choreographic Practices 6 (1), 59-83.
Waelde, C. (2015) 'Music performed: what is beyond the score?' In Concepts of Music and Copyright: how music perceives itself and how copyright perceives music. Ed. by Rahmatian, A. Cheltenham: Edward Elgar, 23-49.
Brown, A., and Waelde, C. (2015) 'Human Rights, Persons with Disabilities and Copyright'. In Research Handbook on Human Rights and Intellectual Property. Ed. by Geiger, C. Cheltenham: Edward Elgar, 577–604.
Brown, A., and Waelde, C. (2015) 'IP, Disability, Culture and Exceptionalism: Does copyright law deal with difference?'. In Intellectual Property and General Legal Principles; Is IP a Lex Specialis? Ed. By Dinwoodie, G.B. Cheltenham: Edward Elgar.
Whatley, S., Waelde, C., Brown, A., and Harmon, S. (2014) 'Validation and Virtuosity: Perspectives on Difference and Authorship/Control in Dance'. Dance Research Journal.
Waelde, C., Whatley, S., and Pavis, M. (2014) ' Let's Dance! But Who Owns It?' EIPR 36, 217.
Harmon, S., Waelde, C., and Whatley, S. (2014) 'Disabled Dance: Grounding the Practice in the Law of 'Cultural Heritage''. Web Journal of Current Legal Issues 20 (3).
Brown, A., Harmon, S.H.E., and Waelde, C. (2013) 'Do you see what I see? disability, technology, law and the experience of culture'. International Review of Intellectual Property & Competition Law 43 (8), 901-930.
Schlesinger, P., and Waelde, C. (2012) 'Copyright and cultural work: An exploration'. Innovation 25 (1), 11-28.
Waelde, C., and Schlesinger, P. (2011) 'Music and Dance: Beyond Copyright Text?'. SCRIPTed 8 (3), 257-291.
Waelde, C., and Brown, A. (2010) 'A practical analysis of the human rights paradox in intellectual property law: Russian Roulette'. in Intellectual Property and Human Rights. Ed. by Grosheide, W. Cheltenham: Edward Elgar Publishing, 183-235.
Waelde, C. (2009) 'Scholarly Communications and New Technologies: The Role of Copyright in the Open Access Movement'. in Law and the Internet. Ed. by Edwards, L., and Waelde, C. Hart Publishing, 395-416.
SELECTED PROJECTS
Europeana Space. Funded by the EU, this project aims to increase and enhance the creative industries' use of Europeana (the European platform for cultural heritage) and other online collections of digital cultural content, by delivering a range of digitised resources to support their engagement.
RICHES: Renewal, Innovation and Change: Heritage and European Society. This project seeks to understand the changes wrought in the cultural heritage sector as a result of digitisation and co-creation.
InVisible Difference: Disability, Dance and Law. A three year interdisciplinary research project that brought together experts from dance and the law to research questions relating to authorship and ownership of dance made and performed by dancers and choreographers with disabilities.
SCRIPT Centre – AHRC funded research centre at the University of Edinburgh. SCRIPT Centre received research centre funding from the AHRC for the period 2002 – 2012. It was funded for two consecutive periods of five years, one of only a handful of centres to receive such funding. It combined research into the law domains of information technology, intellectual property and medical law, developing an innovative programme of research and drawing in researchers from around the world.
Music and Dance: Beyond Copyright Text? Funded by the AHRC beyond text network funding stream, through interdisciplinary research this project asked whether experimental, experiential forms of music and dance were beyond copyright's text.
Copyright and Publicly-Funded Arts and Humanities Research Identifying and Developing Sustainable Exploitation Models in the Digital Economy. A project to examine the relationships between copyright, publicly funded arts and humanities research, and research processes in the digital era based on case studies of six different AHRC-funded projects: three funded under the Digital Transformations theme, and three funded by one of the Knowledge Exchange Hubs for the Creative Economy, Research and Enterprise in the Arts and Creative Technologies (REACT).
Review of skills development and educational resources in copyright for the arts and cultural sector. A project to map the copyright resources available to stakeholders in the arts and culture sector appropriate to meet the twin goals of resilience and openness.