Natasa Tziampou
Research subject and interests
Sustainable Drainage Systems (SuDS)
Hydraulics and Water Engineering
Fluid dynamics
My project title is 'Research on the evaluation of new barrier systems for Pervious Pavement Systems (PPS) to control flooding and urban pollution'. Adverse weather conditions and the disruption of the natural water cycle in cities due to surface waterproofing by urbanisation activities have aggravated existing flooding problems and have deteriorated water quality. The need for new drainage systems with the capacity to provide extra storage to control and attenuate flooding issues has arisen. Sustainable Drainage Systems (SuDS) have been widely used in urban areas across the world to control storm water (peak flow and volume) and improve water quality. PPS are a well-studied and tested SuDS source control measure, serving as an alternative to impervious pavements.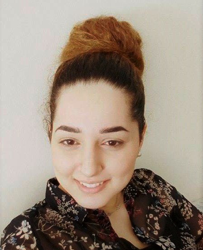 PhD Student
Building: Ryton Gardens
Email: tziampon@uni.coventry.ac.uk
The ability of PPS to control stormwater at the source, treat pollutants and provide benefits such as renewable energy and water harvesting, makes them a promising sustainable approach to stormwater management. However, there is a need for further optimisation, especially in the development of fields such as material science and pollutant barrier and attenuation systems within the structure of PPS. In view of the existing situation, the overall aim of this research project is to optimise the water attenuation function of PPS and improve water quality to achieve the best stormwater management possible, with a particular focus on evaluating the performance of new barrier systems deployed in PPS.
Supervisory Team:
Dr. Steve Coupe (Director of Studies)
Dr. Luis Sanudo-Fontaneda
Prof. Daniel Castro- Fresno
Prof. Alan P. Newman
Biography
Natasa joined Coventry University's Centre for Agroecology, Water and Resilience (CAWR) in September 2015 and she is currently undertaking a full time PhD on Sustainable Urban Drainage Devices (SUDS). She achieved an MSc in Oil and Gas Management from Coventry University (2015) and a BSc in Physics (2014) from University of Cyprus. In 2012, Natasa worked as a Physics teacher to secondary school students. Her wider interests include environment and sustainability
Languages:
English, Greek