Ezinne Emeana
Research subject and interest
Agroecology Dissemination and adoption
Farmers' involvement
Mobile phone application development and use
Rural sociology and community development
The title of my project is 'Can Mobile Phone Applications Improve Agroecology Adoption?' in my research I will be exploring how mobile phone applications can improve the dissemination of agroecological farming systems and the adoption by farmers. With the growing demand for food and fibre driven by population growth and lifestyle changes, the challenge of achieving food and nutrition security has called for a rapid shift from conventional/industrial farming system which although increased food production but has adverse effect on the environment and health, whilst food poverty is still widespread, to a sustainable farming system that supports food productivity while maintaining environmental sustainability and promoting rural livelihoods. Agroecology has been proven to be viable farming system with the capacity to ameliorate these challenges due to its level of resiliency, efficiency and productivity. This research will establish a framework that facilitates agroecological information dissemination and ascertain effective means of improving the adoption in areas where the practice is still not widely adopted. The study focus is Nigeria.
The research will involve a practical design approach with in-depth interviews and focus group discussions, in addition to secondary data to gain insight on the dynamics of the existing agricultural practices and the effectiveness of mobile phone applications in agroecology development. The research will provide practical knowledge for the farming community. Thus, enhancing dissemination and understanding of agroecological practices, and knowledge retention.
Supervisory Team:
Liz Trenchard (Director of Studies)
Katharina Dehnen-Schmutz
Siraj Shaikh
Biography
Ezinne is an Agricultural Research and Extension Officer, with interests in the extension of alternatives to conventional farming systems such as agroecology. She also has experience in rural development.
Prior to starting her PhD in Coventry University, Ezinne obtained a Master of Science in Environmental Management from Coventry University, a Bachelor of Agriculture in Agricultural Extension from the Federal University of Technology, Nigeria. She has been working for over four years with the Federal Ministry of Agriculture and Rural Development, Nigeria as an agricultural research and extension officer.
Ezinne has been involved in several rural development projects funded by the government of Nigeria that provided basic amenities for the rural populace.
Award and Grants
Edo State Government Honour, Federal Republic of Nigeria - 2010
Millennium Development Goals Advocacy Merit Award - 2011
National Presidential Honour, Federal Republic of Nigeria - 2012
Federal Government of Nigeria Scholarship Award for Masters and PhD - 2012
Languages
English, Igbo and French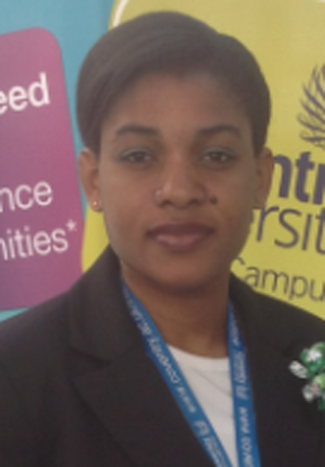 PhD Student
Building: Ryton Gardens