Dr. Vinh Doan
MY RESEARCH
VISION
Having worked in collaboration with various companies in the construction sector, I am interested in the practicalities of energy efficiency measures and renewable energy solutions and issues when implementing in both new build and retrofitted buildings. My inspiration is to learn, design and develop better performing buildings, which work for occupants and run on low energy that could be offset by renewable energy resources. There has been a lot of focus on design and construction of low energy buildings, while the daily operation of buildings which cause a long term performance gap, is in most cases neglected. What I hope to achieve is to encourage stakeholders to work together, learning and sharing experiences in reducing building environmental impact via better building design with measurable energy and water savings and empowering occupant engagement.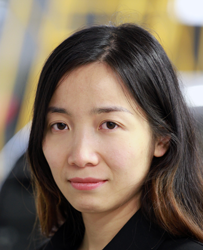 Environmental Technologies Business Manager

Building: EC
Room: ECG-34
Email: vinh.doan@coventry.ac.uk
BIOGRAPHY
Following a degree in Building and Industrial Construction (Vietnam), Vinh undertook Master of Science in Mechanics of Materials and Structures at Ecole des Ponts ParisTech (France) and her PhD degree at the University of Birmingham provided a framework for a systematic post-construction evaluation of a Structural Insulated Panel based dwelling.
After completing her PhD degree, Vinh has been working as Environmental Technologies Business Manager in a jointly funded Sustainable Building Futures (SBF) project at the Faculty of Engineering, Environment and Computing at Coventry University for three and a half years. This role involves managing technical and consulting aspects of the project by providing support on the use of new sustainable and green building technologies to small and medium sized companies in the construction sector. Her principle areas of activity are Infrared thermographic analysis, building performance assessment, post occupancy evaluation, feasibility studies for renewable energy solutions, and sustainability assessment. As a BREEAM Accredited Professional, she looks into promoting sustainability, ensuring best environmental practice in operation is achieved, and specifying innovative solutions that minimise environmental impact.
She has also worked closely with industrial/ manufacturer partners to research and develop testing protocols for their products at full scale or mock-up testing in the Environmental Test Chamber to evaluate and investigate the hygrothermal performance of building elements under a range of controllable test conditions, and/or in extreme weather conditions.
SELECTED OUTPUTS
Integrated design solutions of a residential structural insulated panel dwelling. Providing a systematic post construction evaluation, energy efficiency and cost effectiveness measures for a novel factory built dwelling using structural insulated panels.
Sustainable Building Future. Conducting thermographic survey, airtightness testing, co-heating test, environmental and energy monitoring at post construction and post occupancy stage, and evaluate and investigate the hygrothermal performance of different building elements and systems using Environmental Test Chamber.