Dr. Kathryn Wills
MY RESEARCH VISION
I find this research a fascinating opportunity to combine a number of scientific and engineering disciplines. There is a growing need for wearable "smart" electronic devices, particularly in the healthcare sector. The conductive fabric technology we are developing can be used across a range of technologies. Integration and adoption of these new types of material into devices is hindered by a lack of metrology, for example, quality control and clearly defined performance requirements. Therefore the necessity to develop test methods, as well as a robust, reliable technology, is a significant driver for this research. As a Knowledge Transfer Project this research brings together academic and company expertise.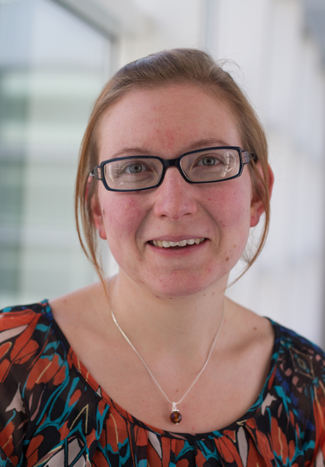 Project Officer

Building: James Starley
Room: JS335
Email: ab8268@coventry.ac.uk
BIOGRAPHY
Kathryn completed her first degree in Chemistry at the University of Nottingham. Following this she spent 12 months working for the Royal Society of Chemistry, completing their Communication and Membership Marketing graduate programme, before beginning her PhD at the University of Bath. She completed her PhD in the Centre for Sustainable Chemical Technologies in the area of copper dyes for application in dye-sensitized solar cells (DSCs). This multidisciplinary research project included organic and inorganic chemical synthesis, dye characterisation, DSC assembly and device analysis. During her PhD she also spent three months as a postgraduate fellow at the Parliamentary Office for Science and Technology, where she wrote a briefing paper for MPs and Peers entitled "Reporting Greenhouse Gases".
Kathryn has joined Coventry University as a Knowledge Transfer Partnership Associate, partnering with the National Physical Laboratory (NPL) to work in the area of smart textiles. The project will look at additive techniques for applying conductive tracks to a range of textiles, where there are a significant range of potential applications within the health, sport, electronics and high value manufacturing sectors.
SELECTED PROJECTS
Knowledge Transfer Partnership: A KTP project between Coventry University and the National Physical Laboratory (NPL).