Dr. Elizabeth Sparkes
My research vision
I am particularly passionate about teaching and researching women's health, interactions in healthcare, pain psychology and mindfulness. I completed my PhD in pain psychology, looking at psychological characteristics that impact treatment efficacy. I feel it is important to understand the experience and therefore improve the treatment of pain. I am part of the development of a CIC which has been set up at CU, delivering mindfulness courses and teacher training retreats. This has enabled me to go on to research mindfulness impact on health and in particular maternal health.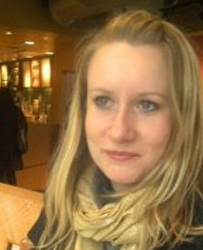 Senior Lecturer
Building: James Starley
Room: JS242
Biography
Elizabeth previously working in the NHS in behaviour change, setting up services for mental health service users. Enabling changes in behaviours such as diet, exercise, and smoking. She also trained and supported healthcare professionals in behaviour change. She has a PhD in pain psychology and is currently course director for the MSc Health Psychology. She is a mindfulness teacher, delivering 8 week courses alongside teacher training retreats. Elizabeth has research interests in pain, mindfulness and maternal health and currently is on the supervisory team of 4 PhDs.
Selected outputs
Sparkes, E., Duarte, RM., Mann, S., Lawrence, T., Raphael, JH. (2015) Analysis of psychological characteristics impacting on spinal cord stimulation treatment outcomes: a prospective cohort study, Pain Physician – in press.
Butterworth, S., Sparkes, E. (2014) A different thing altogether: an idiographic case study of breast cancer in men using interpretive phenomenological analysis. Applied Psychological Research Journal, 1 (2), 1-14.
Butterworth, S., Sparkes, E., Brown, K. (2013) Pregnant smokers' perceptions of specialist smoking cessation services. Journal of Smoking cessation, 9 (02), 85-97.
Bashir, S., Sparkes, E., Anwar, K., Oalander, EK. (2013) Postpartum womens views of celebrity weight loss. Women and Birth, 26 (2), 97.
Sawkill, S., Sparkes, E. (2013) A thematic analysis of causes attributed to weigh gain: a slimmers perspective. Journal of Human Nutrition and Dietetics, 26 (1), 78-84.
Sparkes, E., Duarte, RV., Raphael, JH., Denny, E., Ashford, J. (2012) Qualitative exploration of psychological factors associated with spinal cord stimulation. Chronic Illness, 8 (4), 239-251.