Cristiana Pace
RESEARCH SUBJECT AND INTERESTS
I have had a lifelong interest in technology and innovation, its transfer and management. This interest has ranged from the deeply technical world of nanotechnologies, simulation and sustainable technology to socio economic and strategic issues in Motorsport.
I have in the past presented at motorsport conferences, written for the MSA (Motorsport Association) magazine and published a paper: 'Design and Simulation of a Novel Biomechanic Piezoresistive Sensor with Silicon Nanowires', Messina, M.; Njuguna, J.; Dariol, V; Pace C.; Angeletti, G., IEEE/ASME Transactions on, 2013, 18:3.
My current research explores disruptive technologies in the motorsport sector. Low carbon racing, mobility, environmental concerns and sustainability have been topics of significant interest to the motorsport sector in the past decade. This has seen a series of new technology introductions which it is argued have comprised both technical discontinuity and disruptive technology. Focusing on electrification and hybridization, my study will investigate the impact of such technology on the firms, networks and clusters that comprise the UK motorsport industry to understand the strategic management of new technology and its implications for firm and cluster competitiveness.
My supervisor Team consist of Dr. Nick Henry, Co-director Centre of Business in Society, Dr. David Jarvis and Prof. Mark Jenkins, Professor of Business Strategy; Director of Community: Strategy, People and Leadership. School of Management, Cranfield University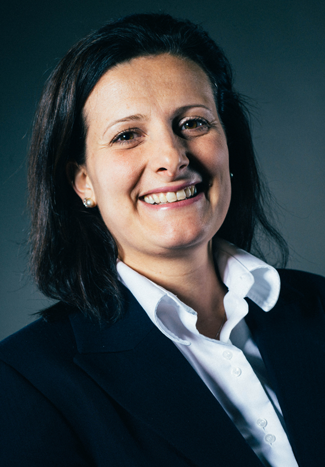 PhD Student
Building: Jaguar
BIOGRAPHY
Cristiana has more than 20 years' experience in the motorsport industry, as an engineer and manager. She graduated in engineering at Universita' degli Studi in Bologna, Italy, and subsequently completed an MSc in Motorsport Engineering and Management at Cranfield University, where she currently sits on the Advisory Board.
Cristiana was one of the first women to be actively involved in motorsport track side, as a performance engineer in GT and at the 24 hours of Le Mans in 2002. She was also the first woman to work alongside the FIA technical department in F1 (as a data analysis, 2004-2008). In 2009 she was appointed Research Consultant for the FIA Institute for Motorsport Sustainability and Safety. In 2012, Cristiana was appointed member of Club di Londra, a club affiliate to the Italian Chamber of commerce in London. She is also a STEMNET ambassador and member of the IMechE (from which obtained the title of CEng in 2015). Cristiana has acted as an advisor for the engineering committee of the FIA Woman in Motorsport Commission (WMC).
Cristiana joined CBiS from Williams Advanced Engineering, a division of Williams F1, where she acted as a Business Development Manager for Motorsport programmes, including Williams supply of batteries to the newly created Formula E (Formula E battery was awarded the Simms medal for 2015 by the Royal Automobile Club).
Cristiana has in the past covered senior engineering and management positions in other motorsport companies in the UK, EEA and MENA regions where she currently benefits from a large network.
SELECTED OUTPUTS
Messina, M., Njuguna, J., Dariol, V., Pace C., and Angeletti, G. (2013) 'Design and Simulation of a Novel Biomechanic Piezoresistive Sensor With Silicon Nanowires'. IEEE/ASME Transactions on Mechatronics 18 (3), 1202-1210. Available from http://dx.doi.org/10.1109/TMECH.2012.2200258
Pace, C. (2003) Investigation into the behaviour of thick, thin and z-pinned composite plate constructions subjected to dynamic impact test. Unpublished MSc thesis. Cranfield: Canfield University (sponsored by Renault F1).