C-DaRE Invites
C-DaRE Invites... is an event series curated by C-DaRE. Each event is "An Invitation to…" a unique occurrence developed in collaboration with staff and a guest(s) proposer. Events include but are not limited to: presentations, talks, discussions, sharing of practice, performances and film screenings. These are free and open for all to attend (unless otherwise stated). Presenters include C-DaRE members, postgraduate researchers and invited external researchers, artists and organisations.
Each event is focused on a topic related to the invitee's current research and interests. Each event is also curated to take place during a particular meal of the day, i.e breakfast, lunch or afternoon tea. We believe that sharing food can be a gateway to conversation and developing relationships and collaboration. So, we prepare food and drink for the invitee and the audience to share during the course of the event.
Please find information about our next C-DaRE Invites event.
If you are interested in attending one of the events or you are interested in proposing an idea for this series please email cdare.fah@coventry.ac.uk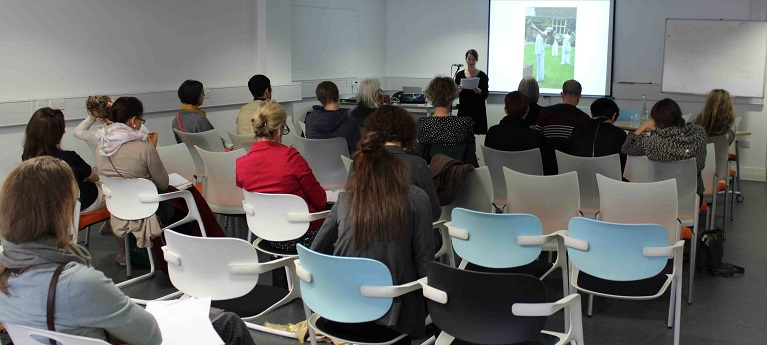 Body Space Object Symposium 2015 photo by Robert Meredith
Past events
C-DaRE Invites…Research in Performing Arts in the South of Brazil
With Lindsay Gianuca and Suzane Weber da Silva
As part of our C-DaRE invites series we are delighted to invite you to a sharing of research by Lindsay Gianuca and Suzane Weber da Silva from Federal University of Rio Grande do Sul (UFRGS). They are at Coventry University through an internationalization program of the Brazilian agency CAPES/PRINT (The Coordination of Improvement of Higher Education Personnel). Lindsay and Suzane will each present their research and then there will be time for a group discussion over brunch.
Vendela Grundell
Unruliness: Images against Normality
This presentation revolves around the ways in which photographs facilitate unruliness by revealing and resisting the rules that situate them. With a focus on particular images, as well as the discourses around them, attention is called to how unruliness take form and make meaning in the interactions between photographers and photographic apparatuses: in material conditions, technical configurations, cultural conceptualizations, and social practices. The detailing of these interactions aims to point out the importance of being unruly in everyday life as much as in aesthetic exploration – and that the two are closely connected. You can read more information on the presentation.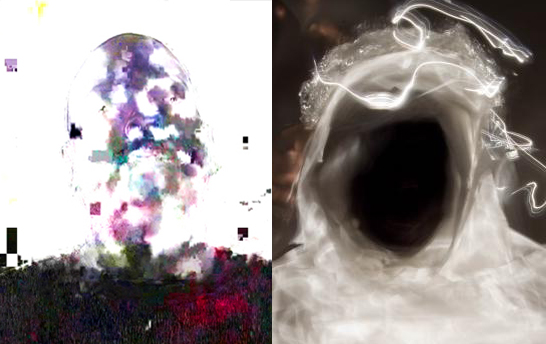 Evan Meaney To Hold a Future Body So Close to One's Own (left) and Victorine Floyd Fludd Radiant Abyss (right)
Biography
Vendela Grundell is a postdoctoral researcher with a PhD in Art History at the Department of Culture and Aesthetics at Stockholm University (2016). She is a Visiting Fellow at the Department of Media, Communications and Cultural Studies at Goldsmiths, University of London, with her postdoctoral project "Seeing Differently / Seeing Difference: Emancipation and Aesthetics in Photography by the Visually Impaired," funded by the Anna Ahlström and Ellen Terserus Foundation at Stockholm University (2018-2019). Since 2012, she teaches art history with a focus on visual technologies and digital cultures in academic and professional institutions while presenting her work at international venues. Publications include "Navigating Darkness: A Photographic Response to Visual Impairment" in Liminalities: A Journal of Performance Studies 14:3 (2018), Flow and Friction: On the Tactical Potential of Interfacing with Glitch Art (Art & Theory Publishing, 2016. Review in Eye Magazine, April 2018), and a chapter in Art and Photography in Media Environments (Lusófona University 2016). Based in Stockholm, she works as a photographer, artist and writer since 1998 – before which she trained as a dancer. Her creative commissions include some thirty exhibitions in Sweden and abroad, twenty articles as well as visuals and text for diverse aesthetic contexts. For more information visit Vendela's Website.