Dr Rami Tawil
Lecturer
Email: rami.tawil@coventry.ac.uk
Rami is a lecturer in Hospitality and Tourism at Coventry University London who has extensive teaching, research and administration experience in the field of tourism and hospitality, as well as in marketing.
His PhD in Tourism and Hospitality Management received an award from Manchester Metropolitan University (2008). Rami also holds an MA in Tourism and Hospitality Management from Bournemouth University (2001).
Prior to joining Coventry University London, Rami held a wide range of positions within the hospitality industry, including 5* hotels and restaurants. Furthermore, as an academic and manager, Dr Tawil was responsible for supervising department and faculty-level collaboration with international universities as part of the Erasmus+ exchange. He served as a committee member responsible for marketing and recruiting of students from different regions.
Dr. Tawil also has experience in quality assurance and accreditation at faculty and department levels, including pursuing the AACSB, and TEDQUAL accreditations.
Qualifications
PhD. Tourism and Hospitality Management - Manchester Metropolitan University - 2008.
MA, Tourism and Hospitality Management - Bournemouth University - 2001.
BA, Hotel Management - ASU, Jordan - 1999.
Professional and Industry Memberships
Manuscript Reviewer – International Journal of Contemporary Hospitality Management, Emerald Journals.
Member of the International Tourism Research Information Network (TRINET) – Hawaii University, USA, 2009.
Member of Forum UNESCO- University and Heritage International Network (FUUH) – Polytechnic University of Valencia, Spain, 2010.
Approved Academic Auditor – Tourism and Hotel Management Programmes – Ministry of Higher Education, Jordan, 2014.
Research and Consultancy
Health and Spa Tourism
Tourist Choice and Destination Choice Process
Restaurant Management
Guest Behaviour
Travel Intermediaries
Events Management
Publications and Scholarship Activities
Tawil, R. and Hammieri, M. (2016). Investigating the Relationship between Job Satisfaction and Employees' Productivity: An Exploratory Study in Amman's Five-Star Hotels, European Journal of Business and Management, Vol. 8, No. 3, pp.143-148.
Tawil, R. and Tamimi, A. (2013). Understanding Chinese Tourists' Travel Motivations: Investigating the Perceptions of Jordan Held by Chinese Tourists, International Journal of Business and Social Sciences, Vol. 4, No. 17, pp. 164-171. Special Issue.
Tawil, R. (2011). Classifying the Hotel Spa Tourist: A Multidimensional Qualitative Approach, International Journal of Humanities and Social Sciences, Vol. 1, No. 20, pp. 155-169.
Trainer/Instructor – Facilitation of Workshops relating Team Building and Leadership skills, USAID, for Petra Development & Tourism Region Authority (PDTRA), 2012.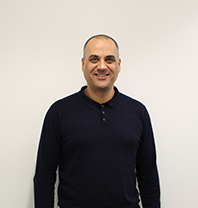 Teaching Areas
Business Management and Decision Making Process (Level 5)
Services Marketing for Hospitality and Tourism (level 4)
Dissertation Supervision (UG and PG)