Dr Lin Su
Senior Lecturer
Email: lin.su@coventry.ac.uk
Dr Su is an academic and marketer, with a diverse range of knowledge and experience in marketing, consumer behaviour and entrepreneurship within HE and the commercial sector.
Before entering academia, Dr Su spent 6 years in industry latterly as Marketing Director of a logistics company. In this role, Dr Su designed a diverse range of marketing activities across multiple channels, and successfully increased the company's clientele by 20% over a 3-month period. Her work included developing and implementing industry standard customer relationship strategies for contracted corporations, resulting in a 45% weighted average increase in customer renewals year-on-year.
Prior to Lin's employment at Coventry University London Campus, she held a position as Lecturer in Marketing at the University of West London, where she successfully managed PG and UG courses of up to 300 students, and increased the number of students achieving First-Class Honours to 17%, and the module pass rate to 97 – 100%.
Qualifications
PhD in Marketing Management, University of Bath, 2013
MSc Global Business Analysis, University of Manchester, 2006
PGCert in Academic Practice, University of West London, 2015
BA(Hons) Business Economics, Manchester Metropolitan University, 2005
Professional and Industry Memberships
Member of Chartered Management Institute (MCMI)
Member of American Marketing Association (AMA)
Fellow of the Higher Education Academy, UK
Research and Consultancy
Lin's research interests lie in the fields of retail marketing, service marketing, relationship marketing, customer experience, co-creation, consumer culture theory, storytelling, digital marketing, branding, luxury fashion marketing and innovative marketing strategy. Lin has been inspired by storytelling and has researched them extensively in her thesis in order to understand better the social, cultural and symbolic perspectives of consumer behaviours.
Lin's current research projects include three areas, which are mysticism and the consumption of Superfoods, symbolism and luxury fashion consumption, and storytelling and the co-creation of experiences.
Publications and Scholarship Activities
Publications (In-progress)
Su, L., Beverland, M., and Shankar, A. We are Storytellers! Exploring the Life Story Swapping Perspective of Customer Retail Experience Target Journal: Journal of Retailing
Su, L., Beverland, M., and Shankar, A. The Impact of Consumer-to-Salesperson Interaction on Customer Value Co-creation Target Journal: Journal of Business Research
Su, L., Beverland, M., and Shankar, A. Co-creating Personalised and Unique Service Experiences through Consumer-to-Salesperson Vocal Performance Target Journal: Journal of Service Research
Scholarship Activities
Su, L. (2014). Once Upon a Consumer: Co-creating Personalised and Unique Retail Experience through Life Story Swapping. Innovation, Enterprise and Business Excellence Research Cluster (IEBE), University of West London, UK
Su, L. (2012). The Life Story Swapping Perspective of the Retail Experience: Co-creating Personalised and Unique Shopping Experiences through Service Encounters. Centre for Research in Advertising and Consumption Doctoral Colloquium, University of Bath, UK
Su, L. (2011). Co-creation of Consumer Experience in Retail Store Environments. Centre for Research in Advertising and Consumption Doctoral Colloquium, University of Bath, UK
Su, L. and Moody, W. (2009). Building a Strong Brand through Web 2.0 Environment: Exploring a Social Media Beauty Campaign in China. The CPN (China Postgraduate Network) Conference, Manchester
Su, L. and Moody, W. (2009). The Influence of Social Media Campaign on Brand Equity to Chinese Consumers. School of Materials Postgraduate Conference, The University of Manchester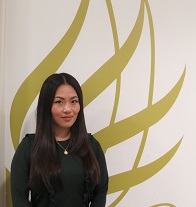 Teaching Areas
Buyer Behaviour Analysis
Marketing in a Global Age
Dissertation
Business Research Project