Dr. Jonathan Nixon
Senior Lecturer
School of Mechanical, Aerospace and Automotive Engineering
Faculty of Engineering, Environment and Computing

Email: jonathan.nixon@coventry.ac.uk
LinkedIn Profile
ResearchGate
Google Scholar
Biography
I am a Senior Lecturer in the School of Mechanical, Aerospace and Automotive Engineering. Before joining Coventry University in 2016, I was a Senior Lecturer in Renewable Energy Engineering at Kingston University London. I gained my PhD from Aston University whilst working on hybrid solar-biomass power plants. As a Research Fellow, I assisted in the development of pyrolysis plants for generating bio-fuels from agro-residues in India. My research has been published in several leading scientific journals (Energy, Solar Energy and Journal of Cleaner Production) and, as a guest editor, I have managed journal special issues. I am on international scientific committee panels for several international conferences and I am an external examiner for other higher education institutes. My current research projects involve the provision of energy services in the UK, India, China and Pakistan.
Qualifications
Postgraduate Certificate in Learning and Teaching in Higher Education, Kingston University, 2014.
PhD, Solar thermal collectors for use in hybrid solar-biomass power plants in India, Aston University, 2012.
Mechanical Engineering BEng (First Class Honours), Aston University, 2009.
Research interests
My research explores interdisciplinary engineering methods to advance and promote the sustainable development of renewable energy systems. By integrating energy systems modelling and optimisation methods with operations research techniques, I aim to develop cost-effective carbon reduction solutions. I have a particular interest in developing and implementing sustainable energy solutions to support economic development and social welfare in developing countries.
Projects
Multidisciplinary Issues of Wind Turbines in Cold Environments
Biomass Resource Utilisation for Clean Energy Production and Socio-economic Development in Rural Areas
Sustainable Energy Recovery from Waste Biomass
Municipal Solid Waste to Energy: Decision Support System for Supply Chain Design
Selected outputs and publications
J. D. Nixon, P. K. Dey, P. A. Davies, S. Sagi and R. F. Berry (2014) Supply chain optimisation of pyrolysis plant deployment using goal programming. Energy, 68, 262-271.
J. D. Nixon, P. K. Dey S. K. Ghosh and P.A. Davies (2013) Evaluation of options for energy recovery from municipal solid waste in India using the hierarchical analytical network process. Energy, 59, 215–223.
J. D. Nixon, P. K. Dey and P. A. Davies (2013) Design of a novel solar thermal collector using a multi-criteria decision-making methodology. Journal of Cleaner Production, 59, 150–159.
J. D. Nixon, P. K. Dey and P. A. Davies (2012) The feasibility of hybrid solar-biomass power plants in India. Energy, 46(1), 541–554.
J. D. Nixon and P. A. Davies (2012) Cost-exergy optimisation of linear Fresnel reflectors. Solar Energy, 86(1), 147-156.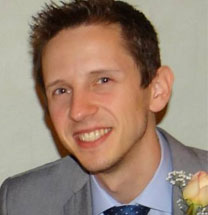 Areas of expertise
Specific areas of interest include, but are not limited to:
Thermochemical and biochemical conversion technologies
Solar and wind energy
Energy systems modelling and optimisation
Waste and energy services for developing countries
Life cycle assessment
Computer aided engineering
Supply chain optimisation
Decision support systems
Multi-criteria and multi-objective decision making