Alyson Morris
Course Director for English and Creative Writing
School of Humanities
Faculty of Arts and Humanities

Email: bsx305@coventry.ac.uk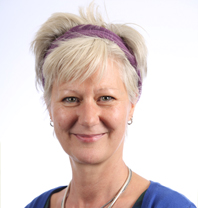 Biography
Alyson has been a lecturer at Coventry University since 2003. She has taught English to overseas students, business English, academic essay writing and English for academic purposes. Since 2005 she has developed and taught creative writing on the BA English Degree. Alyson is now Course Director for BA English and Creative Writing. She writes poetry, flash fiction and short stories.
Prior to joining Coventry University, she published materials for education and marketing. In 2007, Alyson produced and taught creative writing modules on the BA English degree, which she continues to teach and maintain today. Teaching includes poetry, travel writing, short stories, play writing and writing for children.
In 2008, along with a group of students, Alyson produced Coventry Words, a creative writing web and magazine for student writers. Alyson is currently working on a project with The Herbert Museum and Gallery to publish students' poetry inspired by museum and gallery exhibits.
Teaching
Module Leader, 151DEL: Writing for Magazines
Module Leader, 250DEL: Creating Stories for Children
Module Leader, 251DEL: The Short Story Workshop
Module Leader, 302DEL: Professional Portfolio in Creative Writing Project
Lecturer, 150DEL: Poetry and Descriptive Prose
Lecturer, 351DEL: Writing for the Theatre and Radio
Tutor, 100DEL: Introduction to English and Languages
Tutor, 200DEL: Career and Planning Project
Tutor, 300DEL: Literature Review Project
Qualifications
M.A., Creative Writing, Birmingham City University
B.A Ed. (Hons), Design and Technology with Computer Studies, Goldsmiths' University of London
Professional Licences and Certifications
2003, TESOL, Golders Green Language School, London
1995-present, Primary Teacher
Research Interests
History and the short story
Contemporary prose poetry
Percy Bysshe Shelley and his political poetry
Creative writing pedagogy
Publishing students' work
Exploring the use of the short story as a learning tool for university students studying subjects such as History and Law
Selected Outputs
Morris, A., and Foster, S. (2013) Law and the Short Story. [Presentation]
Morris, A. (2013) Poetry Collection: Hole, Analogue and Bakelite, The String You Can Play Without, Writer's Weave. Earlyworks Press
Morris, A. (2012) 'Producing Creative Writing Magazines and Websites: The value to university students'. Writers in Education (NAWE Journal),58
Morris, A. (2012) 'Hole, Analogue and Bakelite, The String You Can Play Without, Postcard'. In This is a book about Alice: Prizewinning Poetry and Flash Fiction. Ed. by Green, K. Hastings: Earlyworks Press
Morris, A. (2011) 'Law and the Short Story: Human Rights students trial the short story as a method of assessment'. Writers in Education (NAWE Journal) 53
Morris, A. (2011) 'Flash Theatre: The ten-minute script, practical playwriting for level three BA English students'. Writers in Education (NAWE Journal) 55
Morris, A. (2010) 'The Multimedia Picture Book: Using PowerPoint to Create Stories for Children'. Writers in Education (NAWE Journal) 52
Selected Professional Activities
Using the Short Story as a learning tool for other university departments, apart from Law
CPD short courses in writing to local community
Created and now Executive Editor of Coventry Words
Other Responsibilities
Course Director, English and Creative Writing
Employability Tutor