China Summer Camp 2021
The Confucius Institute is excited to offer every Mandarin Chinese student a chance to be part of a once in a lifetime trip 14-day trip to China in 2021. The China Summer Camp offers you the chance to take in the amazing sights of Beijing, Nanchang and Jingdezhen, experience life in modern China and develop your language skills with our partner university Jiangxi University of Finance and Economics (JUFE).
Coventry University prides itself in offering it's students the chance to have a global experience, and our China Summer Camp is a perfect example of blending learning, culture and sightseeing into one trip. Coventry University students may benefit from financial support from this trip. Contact us for more information.
You will depart Coventry in May 2021 departing from Birmingham International Airport to Beijing. After a few days in the Eternal City you will travel to Nanchang and spend 10 days with the team at JUFE with a mixture of educational programmes and activities before returning to the UK.
You will spend your first 3 days in Beijing spending time visiting such amazing sites as the Great Wall, The Winter Palace and experiencing life in the Chinese capital city. You then move to Nanchang, home of JUFE, who will be your hosts for your stay in the city. While staying in Nanchang you will have the chance to visit surrounding areas such as Jingdezhen, the home of fine porcelain.
---
Applications for the China Summer Camp 2021 will be open to anyone who is or has studied a Mandarin Chinese language course at Coventry University. You will pay for flights and Chinese Visa. The costs for accommodation, meals and in-country travel are all covered by JUFE. Students of Coventry University may also be eligible for financial support from the International Experience fund. Places on the trip are limited so we will treat applications on basis of first come first serve. So don't delay, complete your registration and payment of the deposit to secure you place. Read feedback from students that have previously participated in the China Summer Camp.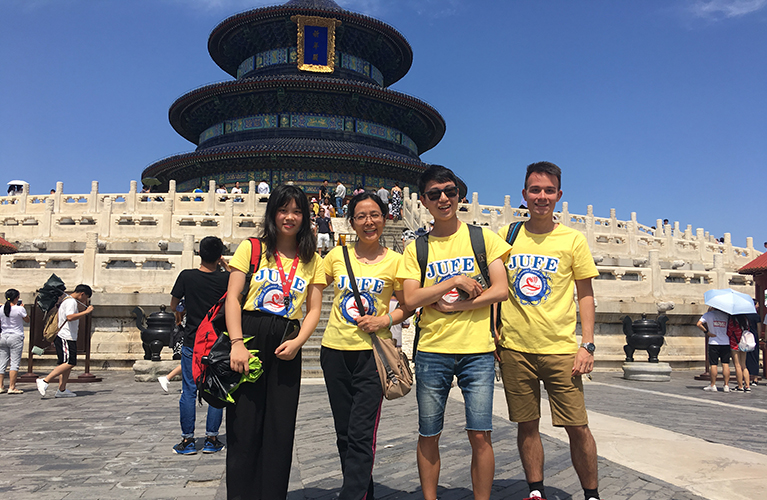 ---
Details about costs and applications will be updated when confirmed. For any queries about this camp please email the Confucius Institute at confuciusinstitute@coventry.ac.uk
I am a Coventry University Student. How do I register for a place on the trip?
I am a member of staff at Coventry University or a member of the public? How do I register for a place on the trip?
Once you have completed registration for the trip you will be contacted by the Confucius Institute to pay for your deposit, which must be completed by 15th January 2020.