Course code:
Study options:
3 years full-time
4 years full-time
6 years part-time
Location:
---
Get in touch
For questions regarding study and admissions please contact us:
Course code:
Study options:
3 years full-time
4 years full-time
6 years part-time
Location:
---
Get in touch
For questions regarding study and admissions please contact us:
Course code:
Study options:
3 years full-time
4 years full-time
6 years part-time
Location:
---
Get in touch
For questions regarding study and admissions please contact us:
If you're interested in a career in the fast-paced banking and financial sector, a degree in Banking and Finance could provide you with the opportunity to learn the skills needed to succeed.  
Over the past ten years, the scale and importance of the banking industry to the global economy has grown – with a 2018 report showing the world's top 1000 banks now hold $123.7 trillion in assets, up from $96.4 trillion ten years ago. Such growth requires an increase in talent, with the City of London, home to many of the UK's largest banks, predicting a 34% growth in jobs in the next 30 years.
Our BSc Banking and Finance course has been designed to help meet this need by focusing on your future employability. Not only will you have the opportunity to study modules specifically related to banking, such as Banking Regulation, Principles of Banking and Risk Management in Banking, you should also gain applied knowledge in the areas of economics, finance and accounting. Coupled with the support offered by our Employability team, Business Futures, and the experience you can gain on our industry-standard Trading Floor, this course should help to prepare you to enter the banking and finance industry upon graduation.
Why Coventry University?
An award-winning university, we are committed to providing our students with the best possible experience. We continue to invest in both our facilities and our innovative approach to education. Our students benefit from industry-relevant teaching, and resources and support designed to help them succeed. These range from our modern library and computing facilities to dedicated careers advice and our impressive Students' Union activities.
Global ready
An international outlook, with global opportunities
Employability
Career-ready graduates, with the skills to succeed
Teaching Excellence
Taught by lecturers who are experts in their field
Course essentials
A degree which offers you more, at no extra cost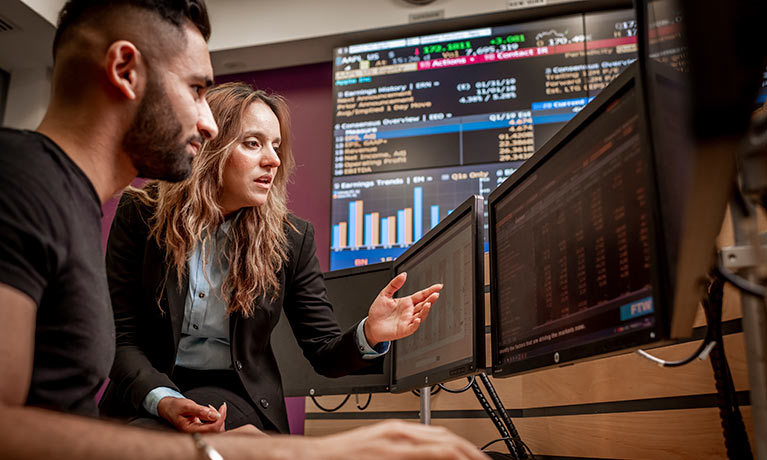 Students have opportunities to practice simulated trading and other finance-related activities using the various types of demo software available in the Trading Floor.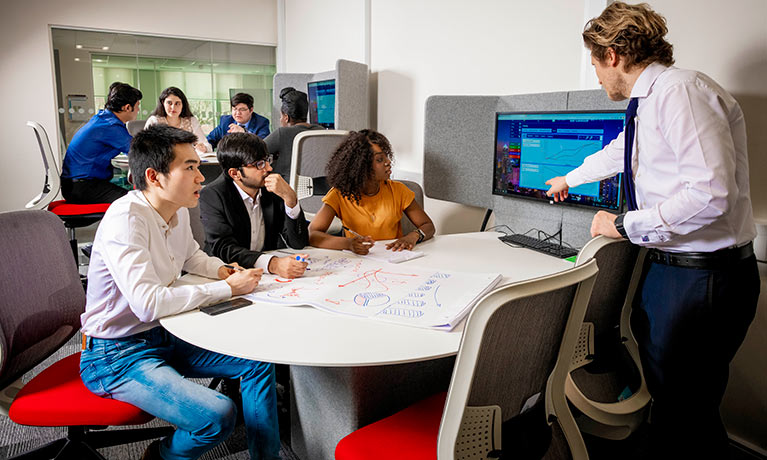 Coventry Business School's Business Simulation Suite utilises the latest business simulation software to give students the opportunity to improve their business skills.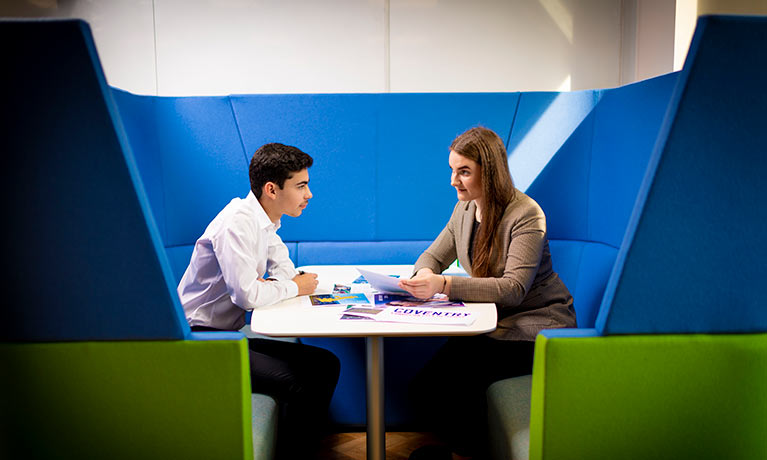 Designed to build creative minds, the DigiComm Lab is equipped with the latest industry-standard marketing and advertising software and devices to support your creative development.
A key feature of this degree is its applied nature, which makes use of related case studies, databases and software throughout core banking modules and relevant financial, economics and accounting modules. By covering this range of areas, you will have the opportunity to gain a breadth of knowledge, which will not only be applicable to the banking sector, but also to roles in financial institutions or wider finance-related fields.  
To help develop skills and knowledge of the banking sector, throughout your degree you will have the opportunity to study modules which specifically relate to the banking industry. In your first year, Introduction to Banking allows for an overview of the topic, which is further developed throughout your course by modules focused on contemporary issues within the sector, such as the regulation of banks, risk management within banking, and corporate governance and ethics. Such modules present you with the opportunity to understand the key current issues in the sector, while also receiving a strong background in applied techniques and skills within banking.
Alongside banking, you will have the opportunity to gain a wider breath of knowledge, covering key topics within finance, accounting and economics. In your first year, you will study modules on the Fundamentals of Finance, as well as Mathematical Skills for Finance and Statistical Analysis for Finance. These modules should help to develop your ability to interpret finance-related data, to understand the function of financial markets, and to apply appropriate financial techniques to a range of banking related issues. As you progress through your degree, you will also have the opportunity to study an Introduction to Econometrics and Applied Econometrics, modules which should allow you to understand how to apply statistical methods to economic data.
Knowledge will also be built through exposure to case studies, software and databases which are of particular relevance to the banking sector. This hands-on approach is further enhanced through our students access to Coventry Business School's Trading Floor, currently one of the largest academic Trading Floorsin Europe. The Trading Floor is equipped with industry standard tools such as Thomson Reuters Eikon and Bloomberg, and by using such industry recognised software, students can enhance their employability – and there is also the opportunity for Bloomberg certification of key financial database skills, on successful completion of a short course.
Employability is not only enhanced by the Business School's dedicated employment team, Business Futures, who offer support in gaining placements and work experience opportunities, but also by the incorporation of employability modules within the course, with Employability Skills in Finance 1 and 2 focusing on internship or placement applications and graduate scheme applications respectively. We also welcome guest speakers from the banking industry for lectures or employability events – 2019's Careers in Banking event saw attendees from the Bank of England, Barclays and Deutsche Bank provide advice and answer questions on careers in the sector.
We regularly review our course content, to make it relevant and current for the benefit of our students. For these reasons, course modules may be updated.
Offering the chance to learn about the banking industry, as well as gain a background in other key financial areas, our degree is focused on providing you with the skills and knowledge needed to have a career in the banking sector.
Delivered by professional academic staff who have industry experience, the applied nature of the course should help to prepare you to work in the fast-paced banking and finance industry. For instance, the Applied Banking Case Study module allows you to work on real case studies covering specific issues faced by banks in the global banking environment, forcing you to apply your knowledge to make recommendations on how to solve problems that could be encountered in a future career within the sector.
Employability is a key concern not only within the course's modules, but also in the support offered, which can cover sessions on CV writing and mock interviews with Business Futures, our employability team, to attendance at events such as Careers in Banking, which in 2019 saw guest speakers from a range of institutions provide advice and guidance on a career in the sector.
As a student of Coventry Business School, you will also have access to our Trading Floor, which is currently one of the largest academic Trading Floors in Europe, and incorporates a variety of analytical, news and data platforms to give you a first-hand experience of industry-standards tools.
There is also opportunity for international experiences as part of the course, either on fieldtrips specifically related to course content, or through Business School or University wide trips (subject to availability, fees apply). The international nature of the modern banking industry is also considered, with every module looked at from a global perspective.
The opportunity to increase your employability by gaining hands on experience of market leading financial databases such as Thomson Reuters Eikon, Bloomberg, Fitch Connect, Thomson Reuters Datastream, and Bereau ba Dijk Fame.
  Access to Coventry Business School's Trading Floor, the largest of its kind in Europe. 
Bespoke employability modules, Employability Skills in Finance 1 and 2, are designed to help you as you apply for internships, placements and graduate jobs in the banking and finance sector.
Support from the Business Schools employability team, Business Futures, who offer support and guidance to help you secure placements and graduate jobs, including mock interviews and CV workshops.  
Modules focused on key topics within the banking industry, giving you the opportunity to understand contemporary issues related to the sector.
Opportunity to study an Add+vantage module each year; allowing you to specialise in a subject not related to banking or finance, such as a language, giving you that added extra when applying for jobs in an international industry.
Guest lectures and sessions from the banking industry, alongside course input from leading financial organisations such as CFA UK and CII.  
Access to Coventry Business School's Progress Coaches, who can support your progress throughout your degree. 
Our main study themes are:
Financial markets and financial principles - Develop knowledge of the function of financial markets, banks and other financial institutions along with an understanding of contemporary financial principles and theories.
Understanding and using financial data – Giving you the opportunity to locate, extract and interpret finance-related data, and be able to apply appropriate financial, theoretical, quantitative and evaluation techniques to a range of banking and finance related issues.
Professional, ethical and regulatory issues in banking – Give you the opportunity to gain a deep understanding of the professional, ethical and regulatory issues relevant to banks and other financial institutions in a local, national and global context.
Personal employability and industry skills – Provide you with the opportunity to develop key competencies required in any future career in the sector, namely numeracy, communication, information literacy, independent thought, creative problem-solving, analysis and sustainable conduct.
This course can be studied over three years full-time or six years of part-time study. You also have the option to spend a year studying abroad or on work placement, taking your degree to four years in length.
We seek to teach our courses through a variety of different methods, to help promote inclusive learning for all students. These methods include lectures, seminars, the use of case studies, guest lectures, digital media, flipped classroom teaching (whereby content is delivered online, outside of the classroom) and specialist training on financial databases such as Bloomberg Terminal, Fitch Connect, Thomson Reuters Datastream and Bereau van Dijk Fame. There is also the chance to produce a Dissertation in your final year, which you will undertake with support from a tutor.
Where possible, we look to help you understand how what you have learnt relates to 'real-world' situations. For example, the module Applied Banking Case Studies requires you to apply the theories and concepts that should have been learnt throughout the course to actual situations faced by the banking industry, with the situations selected to reflect contemporary issues, such as ethics or the internationalisation of financial markets.
Where appropriate, you will be required to work in groups alongside others on the course, to help develop your skills in communication, leadership and negotiation, alongside the core content of modules.
Coventry University aims to ensure that its courses are fairly assessed and endeavours to monitor student progression towards achieving the learning outcomes.
Assessments may include exams, individual assignments or group work elements, some of which will have been designed to be professionally relevant – for example, within the module Academic and Professional Skills in Finance, a group assessment will be conducted based around using professional financial databases, which could mirror work that may be conducted during any future career in the sector.
On completion of this degree, you should be able to:
Develop a key understanding of appropriate policies for banks at the corporate level that are informed by relevant research, theories and empirical evidence as well as the relevant institutional, regulatory and ethical background
Understand how banks and other financial institutions operate within the different global, political, financial and legal contexts, considering the recent advancement in banking technology.
Evaluate critically the advantages of diverse theoretical and empirical approaches for addressing financial problems in the global context.
Conduct goal-oriented research using financial modelling and analytical tools and a range of banking and finance related materials including journals, books and online resources, so as to resolve important banking and finance issues.
Demonstrate digital literacy by using information, communication and digital technologies in solving different financial problems.
Make appropriate decisions considering practical issues which confront modern banking and understand the importance of ethics in banking and financial decisions.
Develop professional, intercultural and self-regulatory capabilities applicable to an increasingly global workplace, and be able to communicate effectively both independently and within teams by employing a variety of conventional and digital capabilities appropriate to diverse audiences.
Understand the concept of risk in finance and the importance of risk management in resolving finance issues as well as important factors influencing the investment behaviour of firms.
We set out below the typical teaching contact hours that you will receive on this course. Teaching contact hours will vary in different years of study and may vary due to module selection. In addition to the contact hours below, we offer the opportunity to attend additional optional sessions, including sessions with the Faculty's progress coaches, or to meet with staff during their advice and feedback hours.
Within your first and second year, you will have 12 contact hours of teaching a week which includes:
Medium group teaching: 6 hours of practical classes, workshops or seminars each week.
Large group teaching: 6 hours of lectures each week.


In your final year, if you are undertaking a project/dissertation, there is a greater emphasis placed on independent study and therefore total contact hours may be reduced.
In addition, you will be expected to undertake a significant amount of self-directed studying and revising in your own time each week, which may include, for example, guided study using hand-outs or online activities.
We recognise the difference that both work and an international experience can make to your future career. All of our undergraduate courses are designed to enable you to take an additional optional year either on placement in the UK or abroad or studying abroad (fees may apply).
Additionally, given the nature of the financial and banking sector, which is highly interconnected at an international level, the majority of modules taught on this course seek to discuss topics from an international perspective.
Global ready
Did you know we help more students travel internationally than any other UK university according to data from the experts in higher education data and analysis, HESA?
In 2016/17, we were able to provide a total of 3,482 experiences abroad that lasted at least five days.

Much of this travel is made possible through our Global Leaders Programme, which enables students to prepare for the challenges of the global employment market, as well as strengthening and developing their broader personal and professional skills.
Explore our international experiences
1st for
international experiences
Sending more students overseas than any other UK uni (HESA 2016/17)
3,482
Student experiences
The number of student trips abroad for at least 5 days in 2016/17
21,000
and counting
The number of students we've helped travel internationally so far
12
global programmes
As well as trips, we offer other opportunities like language courses
Entry Requirements
University Course Code: FBLU039
A Level
BTEC
IB Diploma
GCSE requirement
ABB-BBB
DDM
31-30 points
Minimum 5 GCSE's graded 9-4 / A* - C including Maths and English.
A-Levels
A-Level applicants are required to have three A2 Levels. Coventry University may include AS grades within an offer for certain courses, but we are not able to accept two AS Levels in place of one A2 Level. In some courses it may be necessary for entrants to have passed specific A2 Levels in nominated subjects. Please see the course pages for more information.
Access Diplomas
The Access to HE Diploma to include 30 Level 3 credits at Merit. Plus GCSE English Language and Mathematics at grade A*-C.
Coventry University welcomes applicants who have completed, or who are studying, the Access to HE Diploma developed by the Quality Assurance Agency for Higher Education (QAA). Successful completion of the course will require you to gain 60 credits with at least 45 to be achieved at Level 3 (with the remainder at Level 2). In some cases we will require you to have gained Merit or Distinction grades in a number of units or in nominated subjects. For more information on the entry requirements for your chosen course please see the relevant course pages.
BTEC Level 3 Diplomas
The University will accept the BTEC Level 3 Extended Diploma for entry to most courses. In some cases we will require applicants to have studied either certain named modules or a specific named Diploma. The appropriate course page will have full information on the entry requirements. The University also accepts the BTEC Level 3 Subsidiary Diploma and BTEC Level 3 Diploma for entry to degree programmes, provided that they are studied in combination with other qualifications that provide a total volume of study that is equivalent to three A2 Levels. For example, you could be studying a BTEC Level 3 Diploma plus an A2 Level, or a BTEC Level 3 Subsidiary Diploma plus two A2 Levels. Where a specific A2 or BTEC subject is required for entry then you must be offering this as part of your combination of qualifications.
Please visit our page on European entry requirements for more information about specific country information.
Our International Student Hub offers information on entry requirements for your country, as well as contact details for agents and representatives should you need more advice.
More detail
Select your region to find detailed information about entry requirements:
Our International Student Hub offers information on entry requirements for your country, as well as contact details for agents and representatives should you need more advice.
More detail
Tuition Fees
We pride ourselves on offering competitive tuition fees which we review on an annual basis and offer a wide range of scholarships to support students with their studies. Course fees are calculated on the basis of what it costs to teach each course and we aim for total financial transparency.

For more information, please visit our Finance pages.
Course essentials at no extra cost
We're committed to communicating study costs clearly to make sure you're not faced with having to make any unexpected payments.
This is why our 'Flying Start' package provides you with a few course essentials. Your full-time fee for an undergraduate degree will cover the following:
UK field trips
Any mandatory site visits and trips within the United Kingdom.
Key material
This can include core textbooks, software and equipment.
Laser prints
1,000 A4 sides of black and white laser printing credits per year.
Optional year
Pay no tuition fees for optional work placements or study abroad trips.
The following are additional costs not included in the fees:
Any optional overseas field trips or visits: £400+ per trip
EU student fees
EU nationals and their family members starting in the 2019/20 academic year remain eligible for the same fees as home students and the same financial support. Financial support comes from Student Finance England, and covers undergraduate and postgraduate study for the duration of their course, providing they meet the residency requirement.
For tuition fee loans
EU nationals must have resided in the European Economic Area (EEA) or Switzerland for the three years prior to the start of their course. The purpose of that three year residency should not have been mainly for the purpose of receiving full time education.
For maintenance loans
EU nationals must have resided in the UK and Islands for the five years prior to the start of their course. The purpose of that five year residency should not have been mainly for the purpose of receiving full time education.
Career prospects
The skills and attributes you should develop throughout this course should enable you to pursue a career in the banking and financial sectors, in roles within organisations such as investment banks, commercial banks, or hedge funds. In addition, the knowledge and skills learnt through the financial modules studied should also support career progression into financial services firms. Our Employability Team, Business Futures, are on hand to offer advice, employment opportunities, CV/personal statement checks and placement advice, as well as hosting an annual Employment Fair, dedicated to students studying Business and Law courses.
Coventry University is committed to preparing you for your future career and giving you a competitive edge in the graduate job market. As well as the support available through Business Futures, the University's Careers and Employability team provide a wide range of support services to help you plan and prepare for your career, including a regular series of employer events.
Disclaimer
By accepting your offer of a place and enrolling with us, a Student Contract will be formed between you and the university. A copy of the 19/20 Contract can be found here. The Contract details your rights and the obligations you will be bound by during your time as a student and contains the obligations that the university will owe to you. You should read the Contract before you accept an offer of a place and before you enrol at the university.
The university will charge the tuition fees that are stated on the course webpage and in the prospectus for the first year of study. The university will review tuition fees each year. For UK and EU students, if Parliament permit an increase in tuition fees, the university may increase fees for each subsequent year of study in line with any such changes. Note that any increase is expected to be in line with inflation. Following the UK's planned exit from the European Union, EU students should be aware that there may be a change to UK laws following the UK's exit from the European Union, this may change their student status, their eligibility to study part time, and/or their eligibility for student finance. Coventry University will act in accordance with the UK's laws in force in relation to student tuition fees and finance at that time. For international students, the university may increase fees for each subsequent year of study but such increases will be no more than 5% above inflation.
Graduate Immigration Route visa – Based on current information from the UK Government, students whose study extends beyond summer 2021 may be eligible for a visa under the UK Government's Graduate Immigration Route, which will enable students to stay and work, or look for work, in the UK at any skill level for up to two (2) years. Check the most up to date guidance available to check your eligibility and any updates from the UK Government before making an application or enrolment decision.